Paralytic hunter proves 'you can't keep a good hunter down' on inspiring New Mexico bear hunt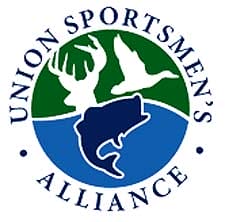 Nashville, TN -(AmmoLand.com)- The Union Sportsmen's Alliance kicks off the eighth season of its award-winning TV series, Brotherhood Outdoors, with a New Mexico black bear hunt that's as inspiring as it is challenging.
New episodes will air Sundays at 11 a.m. Eastern on Sportsman Channel with additional airings on Tuesdays and Thursdays at 3 p.m. and Fridays at 11:30 p.m. Eastern.
A staple in Sportsman Channel's 'Red, Wild & Blue' programming, Brotherhood Outdoors puts American workers in the spotlight as co-hosts Daniel Lee Martin and Julie McQueen take viewers to the homes, communities and job sites of hardworking men and women and into the wild for heart pounding, gut wrenching, unforgettable hunting and fishing adventures across North America.
"The greatest part about Sportsman Channel's Brotherhood Outdoors is the way the show honors America's hardworking union members by enabling them to fulfill once-in-a-lifetime hunting and fishing dreams," said Mitch Petrie, vice president of programming at Sportsman Channel. "Daniel Lee Martin and Julie McQueen really know how to tell the red, wild and blue stories of these inspiring blue collar Americans."
The Jan. 3 premiere features special guest Aaron Heying, an Iowa auto worker, and his bride of less than two weeks on a hunt he never thought possible since a tree stand accident in 2010 left him paralyzed from the waist down.
"I'm in a wheelchair, so to ask if there was anything funny, unusual or unexpected is what we consider a normal day of hunting. Getting around, getting my hunting equipment there, traveling, showering … there is not one part of hunting with me that is similar to an able bodied person. The one thing the same is my desire to get the experience, share the hunt and live life to the fullest," Heying said. "One of the most memorable parts was hiking up and down the mountain on Daniel Lee's and Richard's [guide] back for over 3,000 yards."
As the series continues, viewers will join a group of diehard duck hunters on the Mississippi River for the Illinois waterfowl opener, visit the quaint town of Astoria, Oregon, to cast for king salmon, call in South Dakota Merriam's turkeys, scour Colorado's mountains for bull elk, outwit Oklahoma whitetail and so much more.
"Daniel Lee and I are very excited about the upcoming season of Brotherhood Outdoors because we put our heart and soul into it. Our guests have been amazing, we've gone on some wild adventures, and we've captured some very interesting storylines," said McQueen. "Viewers will recognize some of the same elements, but they'll also notice changes in how we're producing the show to make it even more exciting. One thing that hasn't changed, however, is the focus on our featured guests and their trip of a lifetime with Brotherhood Outdoors."

"We are extremely proud of our members and their commitment to the great outdoors," said USA Executive Director Fred Myers. "Brotherhood Outdoors allows us to honor some of the hardest working men and women in the country as we share their inspiring stories through unforgettable hunting and fishing trips, and we know viewers are going to love the new season."
Presented by Bank of Labor, Brotherhood Outdoors is also sponsored by the following unions, contractors and corporate partners: Buck Knives, Carhartt, Burris/Steiner, International Association of Machinists and Aerospace Workers, International Association of Sheet Metal, Air, Rail and Transportation Workers, International Brotherhood of Boilermakers, International Brotherhood of Electrical Workers, National Electrical Contractors Association, Sqwincher and United Association/International Training Fund.
About The Union Sportsmen's Alliance (USA):
The USA is a union-dedicated, 501(c)(3) nonprofit organization whose members hunt, fish, shoot and volunteer their skills for conservation. The USA is uniting the union community through conservation to preserve North America's outdoor heritage.
For more information, visit www.unionsportsmen.org or connect on Facebook, Twitter and Instagram.
About Brotherhood Outdoors:
Brotherhood Outdoors is a TV series of the Union Sportsmen's Alliance that showcases the talents and passions of everyday American workers as they set out on extraordinary hunting and fishing adventures across North America with co-hosts Daniel Lee Martin and Julie McQueen. Throughout the roller-coaster ride of close encounters, barely misses, trophy catches and perfect shots, viewers get an intimate glimpse into the lives of these inspiring, blue-collar American workers.
For season schedule, photos, previews and more, visit www.brotherhoodoutdoors.tv.
About The Sportsman Channel:
Launched in 2003, Sportsman Channel/Sportsman HD is a television and digital media company fully devoted to honoring a lifestyle that is celebrated by millions of Americans. A division of Outdoor Sportsman Group, Sportsman Channel delivers entertaining and informative programming that showcases outdoor adventure, hunting and fishing, and illustrates it through unique and authentic storytelling. Sportsman Channel embraces the attitude of "Red, Wild & Blue America" – where the American Spirit and Great Outdoors are celebrated in equal measure. Sportsman Channel reaches more than 36 million U.S. television households.
Stay connected to Sportsman Channel online at www.thesportsmanchannel.com, Facebook, Twitter and YouTube.