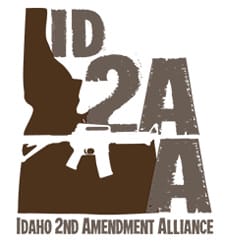 Canyon County, ID -(AmmoLand.com)- On December 1st, 2015 the Idaho Second Amendment Alliance launched an awareness campaign with residents of Canyon County informing them that the commissioners had supported a sign posted at the Canyon County DMV that was attempting to create a "gun free zone."
Scores of volunteers distributed flyers all over Canyon County. Nampa, Caldwell, Notus, Greenleaf, Wilder, Melba, and Middleton all had volunteers distributing flyers to speak out against the DMV signs.
The ISAA had attempted to reach out to the county prosecutor and to the DMV directly to inform them that while their sign was technically not in violation of the preemption statute, it violated the intent. The sign in question simply said, "Please…" which therefore made it a request and not a demand. The sign created what was essentially a de facto law as most citizens won't delineate the difference between a command and a request when such a sign is posted on a government building..
Rep. Chaney, District 10-Republican, sent the commissioners a letter and received one in return. They said in their letter that the sign was a "good faith attempt" at creating a "safe work environment." Isn't that what Obama calls a gun free zone?
That's when citizens of Canyon County made their voices heard! THE PEOPLE spoke out against the signs. They became a part of the process.
Yesterday, 12-2-2015, the Commissioners, DMV, and representatives from the Sheriff's office determined it was best that the signs be taken down.
YOU WON!!!
We want to thank all of our volunteers and all the citizens who spoke out on this important issue. We want to thank the county officials for listening to their constituents and responding quickly to their concerns.
If you appreciate the hard work of the Idaho Second Amendment Alliance and its volunteers then we ask that you give a little back!!!
PLEASE consider a generous donation of $100, $50, or even $25 to help fund further efforts in the State of Idaho!!! Even a donation of $10 goes a long way to funding more battles like the one at the Canyon County DMV.
DONATE HERE——–> https://www.idahosaa.org/donate/
Thank you for all your support and please keep us informed of any infringements on the 2nd Amendment you may be seeing here in Idaho.
Sincerely,

Greg Pruett
President, ISAA
Idaho Second Amendment Alliance:
The Idaho Second Amendment Alliance exists to fight for the 2nd Amendment rights of all Idaho citizens. Even in a gun friendly State like Idaho, the 2nd Amendment is under constant threat.
For more information, visit: www.idahosaa.org.