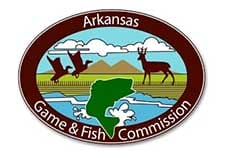 Arkansas -(Ammoland.com)- Wildlife Officers with the Arkansas Game and Fish Commission rescued two stranded motorists from floodwater in Perry County early Saturday morning.
Nearly 6 inches of rainfall had rendered a low-water crossing of the South Fourche River near Deberrie impassable, but four men in a Ford F150 pickup did not heed the familiar warning to turn around when confronted with flooded roads.
The truck and its passengers were swept away by the current. Two men were able to reach land and call 911, but two others were pulled with the truck until it lodged on a flooded island, allowing them to climb into a nearby tree.
Cpl. Robbie Stout and Cpl. Jeremy Bishop with the AGFC met Perry County Sheriff's Office at the scene to assist the stranded men.
"Once we found the men and confirmed that they were alive, we tried to find a place to use a throw rope to cross the water," said Stout. "But they were stuck close to 200 feet away from the nearest bank."
Officers then called Conway Fire and Rescue for a rescue boat, but the wait for them to arrive could have proven deadly to the two men in the tree.
"Conditions were getting worse and water was still rising," said Stout. "Those men had been in the water for a few hours already, and we were worried hypothermia was going to set in."
With the help of several rescue team members and other first responders, Stout and Bishop were able to launch an aluminum War Eagle boat into the swift water and navigate through the current to the stranded men.
"The truck was almost completely submerged," said Stout. "Only about 4 inches of the roof was above the water."
Stout and Bishop loaded the two men into their boat, helped them into life jackets and fought the current back to their launch point where other rescue team members were waiting. The victims were transported to a waiting ambulance and later released.
"I'm just glad that no one was seriously hurt," said Stout. "Floodwaters can be very misleading and have killed many people, including men and women trying to rescue flood victims. It's not worth risking your life and the lives of others to cut a few minutes off your driving time."