Part of the Allusion line, Subdue offers deep concealment in leather and synthetic combination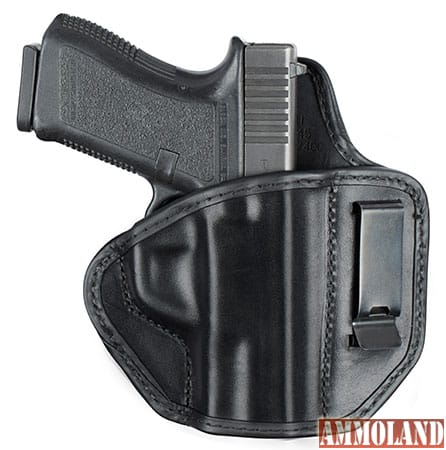 Ontario, CA -(AmmoLand.com)- Bianchi announced today that it released the new Subdue IWB Model 145 Holster at the 2016 SHOT (Shooting, Hunting, Outdoor Trade) Show at the Sands Expo Center in Las Vegas, Nevada, January 19-22.
Part of Bianchi's Allusion line, this inside-the-waistband holster offers a compact, highly concealable design. The back is constructed with an anti-bacterial and microbial mesh padded liner, which prevents germs and odor from accumulating against the body.
With the new Subdue, Bianchi adds a second Allusion IWB holster to the line that features both an extremely comfortable inside the waist design for all-day comfort, and prevents bacterial growth. The Subdue offers a smaller, more compact footprint than its predecessor, the popular Model 145 Suppression model.
Key features of the Subdue IWB holster include:
Premium full-grain leather exterior with a laminate synthetic liner that makes for a smooth draw and long-lasting wear
Heavy-duty spring steel belt clip that securely anchors holster to the wearer's belt or trousers
Anti-bacterial and microbial foam padding on inside liner of leather backing to prevent germs and odor from accumulating against the wearer's body
Padded liner provides added comfort not normally found on bare leather designs
Slight detent in trigger guard for enhanced weapon retention
Fits up to 1.75" (45mm) belt widths
"The new Subdue is worthy of Bianchi's reputation as a leading designer of innovative, high-quality leather handgun holsters," said Scott Carnahan, Vice President, Equipment for Safariland. "From its smooth draw to the technology embedded in its design, SHOT Show was the perfect place to launch this holster."
The Subdue IWB Model 145 is available in black for various sizes with an MSRP of $68.00.
Visit booth #12762 at the 2016 SHOT Show for a demonstration.
About Bianchi:
Bianchi has been a leading producer of holsters and accessories for the concealment, sporting, law enforcement and military markets worldwide for more than 50 years. From premier leather products including Bianchi Cowboy, to the ruggedly durable AccuMold and PatrolTek lines, Bianchi products are known for their time-proven designs, quality and longevity. Bianchi is a part of The Safariland Group family of brands.
For more information, visit www.safariland.com/bianchi.
About The Safariland Group:
The Safariland Group is a premier global provider of trusted, innovative, high-quality law enforcement and security products for the public safety, military and outdoor recreation/personal protection markets. Offering many of the world's most recognizable names in these markets, principal brands include Safariland, ABA, Second Chance, Bianchi, Break Free and Mustang Survival. Forensics brands include Identicator and NIK. The Safariland Group's mission, Together, We Save Lives, is inherent in the lifesaving products it delivers. The Safariland Group has its headquarters in Jacksonville, FL. The Safariland Group is a trade name of Safariland, LLC.
For more information, visit www.safariland.com.