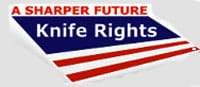 Gilbert, AZ -(AmmoLand.com)- The September appeals court decision in Knife Rights' civil rights lawsuit against New York City and New York District Attorney Cyrus Vance, Jr., was cited last week in a California appeal of a case involving the Second Amendment and firearms.
The case involves similar issues of bogus arrests under California's vague assault weapon ban. As with Knife Rights' vagueness case, Haynie, et al. v. Harris (CA Attorney General), et al. was dismissed on procedural "standing" grounds and is on appeal.
The lawyer for the plaintiffs, Donald Kilmer, made a Rule 28(j) filing pointing out that with a similar set of facts the Second Circuit ruled the dismissal would not stand and sent the case back for trial.
We often point out that Knife Rights is the Second Front in Defense of the Second Amendment, but there's no clearer case of the close nexus between the two, firearms and knives, than here where the precedent we set is being used in the larger Second Amendment battle.
About Knife Rights:
Knife Rights is America's Grassroots Knife Owners Organization, working towards a Sharper Future for all knife owners. Knife Rights is dedicated to providing knife owners an effective voice in public policy. Become a Knife Rights member and make a contribution to support the fight for your knife rights.
For more information, visit www.KnifeRights.org.