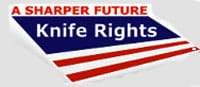 Gilbert, AZ -(AmmoLand.com)- Knife Rights' Wisconsin Knife Law Reform Bill including Knife Law Preemption, AB 142, passed unanimously by voice vote yesterday evening in the Senate and is off to Governor Scott Walker for his signature!
AB 142 removes all restrictions on switchblades (automatic) knives and concealed carry of knives from Wisconsin statutes with the single exception that a person who is prohibited under state law from possessing a firearm may not go armed with a concealed knife that is a "dangerous weapon."
An amendment was added to AB 142 that retains political subdivisions' ability to "[prohibit] the possession of a knife in a building, or part of a building, that is owned, occupied, or controlled by the political subdivision."
Knife Rights would like to thank the primary sponsor of AB 142, Representative Kathleen Bernier, for her hard work and leadership in getting this Knife Reform Bill passed. Our thanks also to our good friends at Wisconsin FORCE who have been so very helpful in this legislative effort. We sincerely appreciate their support.
Knife Law Preemption repeals and prevents local ordinances more restrictive than state law which only serve to confuse or entrap law-abiding citizens traveling within or through the state. Preemption ensures citizens can expect consistent enforcement of state knife laws everywhere in a state.
Knife Rights passed the nation's first Knife Law Preemption bill in Arizona in 2010 and has since passed preemption bills in Alaska, Georgia, Kansas, New Hampshire, Oklahoma, Tennessee, Texas and Utah.
Knife Rights has repealed knife bans in Alaska, Indiana, Kansas, Maine, Missouri, New Hampshire, Nevada, Oklahoma, Tennessee, Texas and Washington.
About Knife Rights:
Knife Rights is America's Grassroots Knife Owners Organization, working towards a Sharper Future for all knife owners. Knife Rights is dedicated to providing knife owners an effective voice in public policy. Become a Knife Rights member and make a contribution to support the fight for your knife rights.
For more information, visit www.KnifeRights.org.