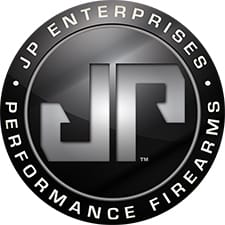 Hugo, MN -(AmmoLand.com)- JP Enterprises is pleased to announce that New York Times best-selling author Larry Correia will be signing books at the JP Enterprises booth (#6113) during SHOT Show 2016.
The signing will take place Thursday, January 21 from 12pm to 2pm.
This event will also mark the unveiling of a new collaborative rifle project between the author and the AR manufacturer tied to Correia's Monster Hunter book series. Correia and JP struck up a partnership last October when the author traveled to Minneapolis, MN as part of the release tour for his new fantasy novel, Son of the Black Sword.
While working out details for the collaboration, Correia spent the day at JP Enterprises, including a trip to the range with JP founder John Paul to try out the latest JP hardware. As part of their collaboration, JP Enterprises now offers special laser marks on any of their receivers or rifles that tie into Correia's Monster Hunter book series. These include the official "Monster Hunter International" smiley face as well as the logo for the "Monster Control Bureau," the government's anti-monster division.
Debuting at SHOT Show is a Monster Hunter collaborative rifle project, a specially configured and finished LRP-07, JP's side-charging .308 AR platform. Spec'd my Correia himself, this suppressor-ready rifle will be available for purchase in Spring, 2016. It will also appear in a forthcoming Monster Hunter novel wielded by the series protagonist, Owen Zastava Pitt.
"I've been a fan of JP rifles since I first saw one in action at 3-Gun match," says Correia. "Their quality is fantastic and they're a great bunch of people to work with. I'm honored to have the Monster Hunter International logo on their fine rifles."
JP Enterprises is pleased to have the privilege of working with not only a great author, but also a friend and advocate of firearms and gun rights. A former retail store owner, competition shooter and concealed carry instructor, Larry Correia has a long history of advocacy on 2nd Amendment issues. His attention to accuracy and detail has made him one of the most appreciated authors in the firearms community.
Fans of Correia attending SHOT Show 2016 are encouraged to stop by the JP Enterprises booth (#6113), located in the lower level Law Enforcement area. A limited number of books will be available for purchase at the signing. Attendees are encouraged to bring or purchase their own at local retailers to ensure they don't miss out on this opportunity.
For more information on Larry Correia, visit his blog at monsterhunternation.com.  Correia also posts regularly on social media: www.facebook.com/larry.correia, twitter.com/monsterhunter45. For more information on JP Enterprises and these Monster Hunter collaboration products, visit their website at www.jprifles.com.
Keep current on the newest JP developments at www.facebook.com/JPRifles, twitter.com/JPRifles and www.youtube.com/JPRifles.
About JP Enterprises:
We at JP are grateful and humbled by our customers' continued support and the ever-increasing representation of our product line in the law enforcement and military domain as well as in the civilian market. The reception of our new products is gratifying and tells us that we have it right. By continually utilizing the feedback of our LE and military customers as well as our Team JP shooting members, we are constantly honing the edge of our designs and forging new concepts on the anvil of tactical rifle competition on the national circuit. We look forward to serving you now and in the future with the most dependable and high-quality components, rifles and customer service to be found anywhere.
For more information on JP Enterprises, please visit their website at www.jprifles.com.