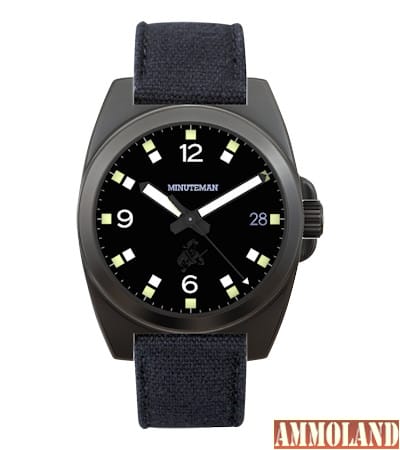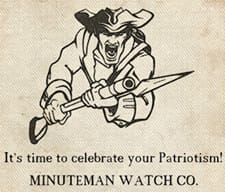 Bloomington, IL -(AmmoLand.com)- American watch brand Minuteman Watch Co. is proud to announce its new Independence series.
This new series of watches was created in a response to requests for a smaller sized watch that would fit a wider range of wrists at a lower price point.
Chris Wiegand from Wiegand Custom Watch, LLC. designed the watch for Minuteman Watch Co. brand. Most will recognize Chris as being the owner of the watch brand Lum-Tec. In addition to designing the watch Wiegand Custom Watch, LLC will also be building the watch in their Mentor Ohio facility for Minuteman Watch Co.
Here are the specifications for this new series:
Assembled in the United States of America.
40mm case width without crown.
Sapphire crystal with anti reflective coating on the inside.
Ronda 515 Swiss Quartz movement.
Water resistant to 100 meters.
Black PVD finish.
Individually serial numbered.
Free lifetime battery replacement.
5 year limited warranty.
Luminous hands and markers.
Watches are being pre-sold right now on the Minuteman Watch Co. brand site here.
About Minuteman Watch Co.:
Minuteman Watches was brought to life in 2013, for 3 reasons: 1. To raise funds for charities that assist Veterans and their families. 2. To provide work for Americans when and where we can. 3. To provide a quality product that will stand the test of time. Minuteman Watch Co. is dedicated to producing the best watch with the best materials at its price point. When you buy a Minuteman Watch, you are not just getting a fantastic and well built watch you can always rely on, but you are also helping support American Workers and US Veterans. All of Minuteman watches are built by highly skilled American watchmakers in the United States of America. Minuteman has cut no corners to offer you a quality, reliable, and good looking watch you can be proud to wear.
For more information, visit: www.MinutemanWatches.com.