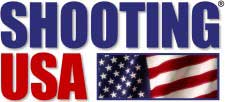 Nashville, TN -(AmmoLand.com)- Shooting USA's Impossible Shots – Thread the Needle
This time, SSG Daniel Horner has combined with the Army Marksmanship Unit Gunsmiths to set up the ultimate Impossible Shot. One bullet shooting through two barrels to pop a balloon. It's definitely threading the needle off-hand.  Plus, Randy Oitker switches to a crossbow to set up his Annie Oakley, over the shoulder challenge. Julie Golob is your guide to some of the most amazing exhibition shots ever seen.
Shooting USA – USPSA Multi-Gun Nationals  
This time, the fastest practical shooters race for the USPSA Multi-gun National titles using pistol, rifle and shotgun. We've got the action from Las Vegas. Plus, the rare breechloader prized by the Confederacy, the Terry Carbine. And juniors compete with dreams of Olympic Gold as the Army hosts the Junior National Air Rifle Championship.
AIR TIMES BY TIME ZONE
The Shooting USA Hour Wednesday:
Eastern Time: 5:30PM, 9:00PM, 12:30 AM Thursday
Central Time: 4:30 PM, 8:00 PM, 11:30 PM
Mountain Time: 3:30 PM, 7:00 PM, 10:30 PM
Pacific Time: 2:30 PM, 6:00 PM, 9:30 PM
Shooting USA is listed as a one-hour show in your cable menu.
Shooting USA's Impossible Shots:
Wednesday:
Eastern Time:  10:30 PM, 2:30 AM, 5:30 AM Thursday
Central Time:  9:30 PM, 1:30 AM, 4:30 AM Thursday
Mountain Time: 8:30 PM, 12:30 AM, 3:30 AM Thursday
Pacific Time: 7:30 PM, 11:30 PM, 2:30 AM Thursday
Special SHOT Show 2016 Coverage
As you read this, we're on the floor at the Sands Convention Center in Las Vegas, discovering the hot new products being released this year.  It's our four-day, whirlwind production tour to bring you our annual SHOT Show Hour Special. Follow along for behind-the-scenes action with our crew, including videos, podcasts and photos.
Be sure to "Like" Shooting USA on Facebook:
And, on Instagram!
Look for new podcasts on PodBean:
Jim
Defending the 2nd by Example in the 22st Year
[email protected]
About Shooting USA:
Jim Scoutten, America's Most Watched Firearms Reporter, has been on the beat for 14 years, reporting the stories of the Shooting Sports and the firearms Industry. The show produces a series of popular segments focusing on historical guns, the personalities in the sport and industry, insider reports from gun tests, and practical tips from shooting sports pros. The show appeals to shooting sports enthusiasts of all ages and skill levels by providing practical tips on safely handling, modifying and repairing their favorite guns.
For more information, please visit www.ShootingUSA.com.