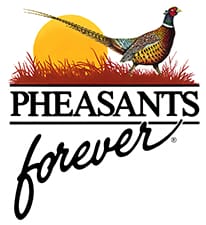 ST. Paul, MN -(AmmoLand.com)- Pheasants Forever has appointed William Clayton, a Minnesota native, as the organization's Eastern Minnesota Regional Representative.
In his new role, Clayton will provide support for volunteer chapters in the Land of 10,000 Lakes, currently home to 74 Pheasants Forever chapters, two Quail Forever chapters, and more than 25,000 members.
"Leadership for our chapters is critical for the success of the Pheasants Forever and Quail Forever local model," stated Tom Fuller, Pheasants Forever's north region director. "Clayton has been acknowledged by his peers as a leader within his volunteer chapter and as a dedicated biologist in his local community. Pheasants Forever anticipates traveling in new and exciting directions under the leadership of Clayton, and we wish him the best in his new position."
Born and raised in New London, MN, Clayton embodies the values of Pheasants Forever as a dedicated conservationist and lifelong upland hunter in central Minnesota. He earned a Bachelor's of Science degree in Natural Resources Management from North Dakota State University in 2013. Hired by Pheasants Forever the following year in Minnesota as a Farm Bill wildlife biologist in Swift County, Clayton has impacted more than 4,500 acres for wildlife habitat conservation in his tenure with the organization.
"Passionate people are what drive the conservation impact of Pheasants Forever," explained Clayton, "I share this same passion which is reflected by our volunteers and members – I'm ready to go to work for these loyal individuals in my new position as regional representative for eastern Minnesota."
Clayton currently serves as an active board member with the Swift County Chapter of Pheasants Forever, and brings his volunteer and natural resource management experience to his new position.
Clayton officially starts as the Eastern Minnesota Regional Representative on January 11 and can be contacted at (320) 905-0226 / email at [email protected]
About Pheasants Forever:
Pheasants Forever, including its quail conservation division, Quail Forever, is the nation's largest nonprofit organization dedicated to upland habitat conservation. Pheasants Forever and Quail Forever have more than 140,000 members and 700 local chapters across the United States and Canada. Chapters are empowered to determine how 100 percent of their locally raised conservation funds are spent; the only national conservation organization that operates through this truly grassroots structure. Since creation in 1982, Pheasants Forever has spent $508 million on 475,000 habitat projects benefiting 10 million acres nationwide.
For more information, visit: www.PheasantsForever.org.