All New Episode Airs This Saturday
Monroe, LA -(AmmoLand.com)- Terry Denmon and Rob Reynolds travel through Alberta calling Coyotes. Temperatures are unseasonably high resulting in cautious dogs but the guys still find a way to make it happen.
Along on the hunt is Remington, Rob's five year old son who is quickly recognized as a good luck charm.
Preview: https://www.youtube.com/watch?v=YRRy-rnF1NA
New episodes premiere Saturdays at 3:30 pm ET on The Sportsman Channel (DISH 395, DIRECTV 605) in the U.S. and Mondays at 1:30 PM ET on Wild TV in Canada.
Broadcast Schedule for MOJO TV on the Sportsman Channel:
Thursday – 3:00 AM CST
Friday – 7:00 AM CST
Saturday – 2:30 PM CST
Like us on Facebook: https://www.facebook.com/MOJOOutdoorsTV
Follow Us on Twitter: https://twitter.com/MojoOutdoorsTV
Subscribe to our Youtube Channel: https://www.youtube.com/user/MOJOOutdoorsTV
Sign up for our Mailing List: http://bit.ly/mojo-email-signup
About Ranchland Outfitters:
Ranchland Outfitters offers First Class Waterfowl Hunts and Big Game hunts in Alberta, Canada.  We have Greater Canada Geese, Lesser Canada Geese, Specks, Snows, Ross' Geese, Mallards, and Pintails. Come to Alberta, Canada and hunt with us this year.  If you want to hunt geese, ducks, or deer we have them all.  If you are looking for an Outfitter that cares about each hunt, look no further.
Ranchland Outfitters is a First Class Waterfowl and Big Game Outfitter. http://www.ranchlandoutfitters.com.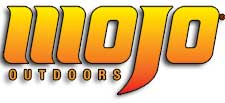 About MOJO Outdoors:
MOJO has long been recognized as the World Leader in Motion Decoys and progressed as the leader in All Decoys. Today, MOJO is a company unsurpassed in bringing a wide variety of innovative outdoor products to the market that revolutionizes the outdoor experience.
See more at http://www.mojooutdoors.com.