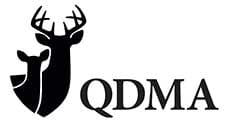 Athens, GA -(AmmoLand.com)- The Quality Deer Management Association (QDMA) will present the "State of the Whitetail" report at the 2016 Archery Trade Association (ATA) Trade Show in Louisville, Kentucky.
Kip Adams, QDMA's Director of Education & Outreach, will lead the presentation on Tuesday, January 5, in ATA's Academy Seminars.
The State of the Whitetail presentation will be based on QDMA's 2016 Whitetail Report, an annual look at the status of whitetails, the most critical game species for the North American hunting industry. Adams will present QDMA's findings from a review of the latest harvest and population statistics around the nation. This includes trends in buck and doe harvest numbers, harvest rates of yearling bucks by state, and also harvest rates of mature bucks by state. The 2016 Whitetail Report also takes a look at deer harvest separated by archery and firearms, trends in public hunting land availability, most common poaching violations by state, wildlife law enforcement manpower, and much more.
Adams will speak in Room C105 of the Kentucky Exposition Center from 7:15 a.m. to 8:15 a.m., prior to the opening of the first day of the ATA Show at 8:30 a.m.
QDMA's complete 2016 Whitetail Report will soon be available for free download at the QDMA website, and printed copies will be available for purchase as well.
Previous Whitetail Reports for 2009 through 2015 can be downloaded here.
About QDMA:
Founded in 1988, QDMA is a national nonprofit wildlife conservation organization dedicated to ensuring the future of white-tailed deer, wildlife habitat and our hunting heritage. To learn more about QDMA and why it is the future of deer hunting, call 800-209-3337 or visit www.QDMA.com.
QDMA can also be found on: Facebook, Twitter, Pinterest and Instagram.