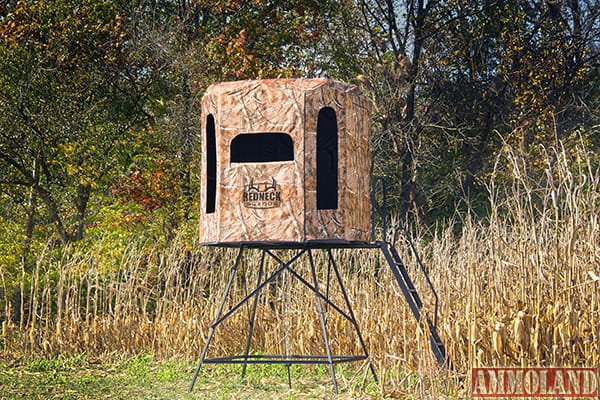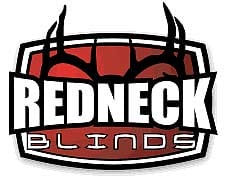 Lamar, MO -(AmmoLand.com)- Designed along similar lines as its wildly popular 360 Series fiberglass blinds, Redneck introduces its 6X6 "Silent Stalker" 360 Soft-Side Blind.
With its spacious 6-foot by 6-foot interior, there's plenty of room for up to three adults or two adults and two children to hunt comfortably—whether that's with a bow, gun or crossbow. The Silent Stalker sports a heavy-duty double-stitched 600 denier flame-retardant camouflage cover, and the double-zipper design allows the windows to be opened to any configuration for maximum visibility while maintaining the highest level of concealment. The blind also features a heavy-duty powder-coated steel frame that will withstand high winds and heavy snow loads. Simply put: This blind will take anything you and Mother Nature can throw at it.
The blind has been strategically designed in an octagonal shape to allow for the placement of four 10- by 46-inch vertical windows and three 14- by 30-inch horizontal windows. The 77-inch high ceiling gives hunters plenty of room to stand and shoot a bow, and the crossbar located directly below each horizontal window makes a perfect gun rest when combined with the Redneck Window Gun Rest Bag. In addition, the highly functional Redneck Blind Gear Console can be mounted inside to store gear, snacks and drinks.
The Silent Stalker has an open floor and can be used on the ground or mounted to Redneck's new 6-foot heavy-duty portable blind stand.
Built with the same attention to detail as the heavy-duty stands designed to hold Redneck's fiberglass blinds, the Portable Blind Stand features a ladder with non-slip steps and a platform that provides room for safe exit and entry of the blind. True to Redneck standards, the Portable Blind Stand is rock-solid, quiet and comes with ground auger, cable and turnbuckle for anchoring.
Included Accessories:
Bow hanger and two movable gun rests
Optional Accessories:
Window Gun Rest Bag, Gear Console, camera mount and sliding see-through camo mesh curtains
Dimensions:
6 feet long X 6 feet wide X 6 feet, 5 inches high
Weight:
6X6 Silent Stalker Blind: 90 pounds
6-Foot Portable Blind Stand: 260 pounds
MSRP: $399/6×6 Silent Stalker Blind
MSRP: $499/6-Foot heavy-duty Portable Blind Stand
For more information about the complete lineup from Redneck Blinds, call 877.523.9986, visit www.redneckblinds.com or email Glenn Walker at [email protected]
About Redneck Outdoor Products:
Redneck Hunting Blinds are engineered in Lamar, Missouri, by the dedicated staff of Redneck Outdoor Products, LLC. Redneck's entire team of professionals has one common goal in mind when building a hunting blind: Quality that leads to customer satisfaction. If it has the Redneck Outdoor Products name on it, it will be the best. Redneck Blinds is a division of Redneck Outdoor Products, LLC.
For more information, visit: www.RedneckBlinds.com.