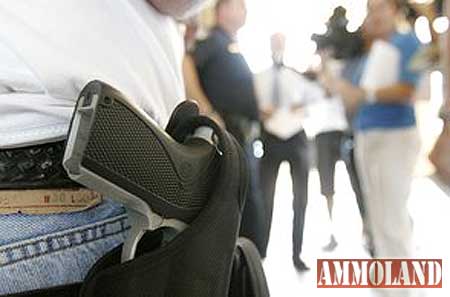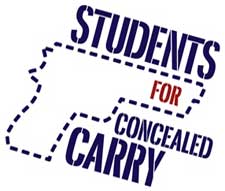 Austin, TX -(AmmoLand.com)- Although the committees and working groups tasked with developing campus carry policies at Texas universities have thus far eschewed such obvious non-starters as banning licensed concealed carry in classrooms and banning concealed carry campus-wide during final exams.
Major universities such as the University of Texas at Austin, the University of North Texas, Texas Tech, and the UT Medical Branch at Galveston are considering policies that would prohibit concealed carry by large segments of the campus community, prohibit concealed carry in large areas where concealed handguns present no unique threat to public safety, or require license holders to carry handguns in a manner that conflicts with basic firearms training.
For this reason, Students for Concealed Carry (SCC) calls on Governor Greg Abbott to include an order to clarify the state's campus carry law—specifically, the scope and intent of the "reasonable rules" university presidents are allowed to make—in any 2016 special session of the Texas Legislature.
At some point between now and April, the Texas Supreme Court will issue its highly anticipated ruling on whether the Texas Legislature has adequately funded the state's public K-12 schools. If the court finds against the state, that ruling may force a special legislative session this summer. In that event, Students for Concealed Carry believes that it would be fiscally prudent for Governor Abbott to include in his special session call a mandate to clarify the state's impending campus carry law.
Antonia Okafor, Southwest regional director for SCC, explained the logic behind SCC's request, stating, "With activists on both sides of this debate already lining up plaintiffs to sue their respective universities if the campus carry policies enacted by those universities aren't to their liking, it's highly probable that the threatened lawsuits would cost the state far more than the roughly one million dollars required for a thirty-day special session. If it's possible to avoid those costly lawsuits by ironing out the law's ambiguities during a special session that has to happen anyway, the state would be fiscally irresponsible not to seize that opportunity."
When Tarrant County Community College in Fort Worth lost a 2009 lawsuit to Students for Concealed Carry, the court ordered TCC to pay $240,000 to SCC's lawyers. Because that payment was in addition to the fees TCC paid its own attorneys, it's reasonable to estimate that that single lawsuit cost the college close to half a million dollars. It's also reasonable to estimate that unresolved ambiguities in the state's campus carry law could result in a half-dozen or more lawsuits against state institutions.
The leaders of SCC's Texas chapter do not invoke the specter of a special session lightly. They understand that special sessions are disliked by both the legislative and executive branches of the Texas government and that Governor Abbott has vowed to avoid a special session if at all possible. However, SCC's Southwest director, Texas director, and campus leaders feel that the campus carry committees and working groups at multiple Texas universities have forced the state's hand. The alternative to a special session is to not only burden the state with multiple costly lawsuits but also to force the Texas Legislature to spend yet another regular session debating campus carry and to allow universities to implement policies—many of which (e.g., signs and storage lockers) require a modest financial investment—that may be invalidated thirteen months later. It makes more sense to fix the law before it takes effect and before its ambiguities take a financial toll on the state.
This measure of last resort wouldn't be necessary if the campus carry committees and working groups had followed the clear intent of the campus carry law (Senate Bill 11) passed during the 2015 Texas Legislative Session. Unfortunately, some university presidents thought it wise to appoint committees that don't include a single supporter of the new law. The inevitable result is that these groups went out of their way to try to subvert the legislature's intent, thereby forcing the State of Texas into the position in which it now finds itself.
The campus carry policy working group at the University of Texas at Austin apparently thinks it reasonable to require any license holder carrying a semiautomatic handgun to leave the gun's chamber empty—a practice that conflicts with the teachings of every firearms school, police academy, and military branch in the U.S. (RELATED).
Both UT-Austin's campus carry working group and Texas Tech University's campus carry task force think it reasonable to let individual faculty, staff, and graduate students arbitrarily criminalize licensed concealed carry in their offices—a policy that would render many license holders, particularly graduate students and staff, unable to carry concealed handguns on campus (RELATED).
Texas Tech's task force believes that ballet recitals and symphony performances are fundamentally the same as the university's raucous football and basketball games and that it is therefore reasonable for the institution to expand the state's ban on concealed carry at collegiate sporting events to include collegiate presentations of the performing arts (RELATED).
The campus carry task force at the University of North Texas thinks it is reasonable to prohibit concealed carry in the University Union building, the university's on-campus hub for dining and shopping. This policy would exclude armed license holders from most of UNT's shops and restaurants, which are located on the first and second floors of the University Union.
The campus carry committee at the University of Texas Medical Branch at Galveston thinks it reasonable to prohibit concealed carry in 135 (80%) of the university's 170 buildings (only 15 of which are used for patient care). Among the list of proposed "gun-free" buildings is the Moody Medical Library. The committee justifies this proposal by pointing out that the library houses a collection of rare documents and antique microscopes that could be damaged by gunfire.
SCC is not opposed to limited restrictions on concealed carry in truly sensitive areas; however, as UTMB's sensitive-library proposal demonstrates, some of these committees and working groups have extremely active imaginations when thinking up excuses to declare an area too "sensitive" for licensed concealed carry. Multiple universities, including Texas Tech and UTMB, want to prohibit concealed carry in student recreation centers. They justify this proposal by arguing that they don't trust license holders to keep handguns concealed while working out. That flimsy justification ignores the fact that license holders manage to exhibit sound judgment regarding when and when not to carry handguns at private health clubs; the fact that these facilities are largely staffed by men and women whose jobs require them to wear business casual attire, not tank tops or swimsuits; and the fact that many of these facilities include student lounges, meeting rooms, and other non-athletic venues.
As of yet, not one official proposal to create a "gun-free" zone at a Texas university has included a suggestion to secure that zone with metal detectors so that it is gun-free in more than name only. None of these so-called "sensitive" areas is so sensitive that a committee or working group has proposed taking steps to ensure that the area is free of illegally carried guns. The consensus seems to be that only legally carried guns present a clear and present danger to chemistry labs, student health clinics, and the like.
Proposing that license holders be required to violate their training, that individual employees be authorized to criminalize concealed carry in state facilities, that concealed carry be prohibited at ballet recitals, that concealed carry be prohibited at restaurants and retail shops, or that concealed carry be prohibited on more than three-quarters of a campus is not reasonable, and the conflict between such unreasonable proposals and the intent of Texas Senate Bill 11 must be resolved. SCC believes that this conflict would best be resolved by the state's legislative body, not its courts. However, SCC's Texas leaders will spend the coming weeks consulting both with Texas lawmakers and with the attorneys retained by SCC's sister organization, the Students for Concealed Carry Foundation, to prepare for all possible contingencies.
SCC's fight for campus carry in Texas did not end with the passage of SB 11, and the organization is ready for whatever comes next.
About Students for Concealed Carry:
Students for Concealed Carry (SCC) is a national, non-partisan, grassroots organization comprising college students, faculty, staff, and concerned citizens who believe that holders of state-issued concealed handgun licenses should be allowed the same measure of personal protection on college campuses that current laws afford them virtually everywhere else. SCC is not affiliated with the NRA or any other organization. For more information on the debate over campus carry in Texas, visit WhyCampusCarry.com.
For more information on SCC, visit ConcealedCampus.org or Facebook.com/ConcealedCampus.