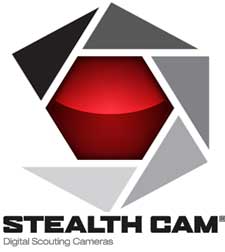 Grand Prairie, TX -(AmmoLand.com)- Stealth Cam, introduced in the year 2000, quickly became the leader in scouting camera innovation. Continuing to advance technology to the next level, the G45NG Pro is even more compact and built with several distinguishing capabilities.
The G45NG Pro is 10% smaller than the original G series and features a dull matte finish camouflage pattern providing no unwanted reflections. New for 2016 is an adjustable PIR range that can be customized to capture targets at specified distances day or night.
Now your G Pro series can trigger out to 100ft to match your cameras night time illumination capabilities. Another useful new feature for 2016 is security mode (DVR mode), which incorporates re-write technology on your SD card. If your SD card were to fill up, you have the choice to choose whether or not it will re-write over the oldest pictures or videos on the card, keeping the most current information.
Stealth Cam has historically been a large factor in successful hunts with features individuals expect to find in a scouting camera. Bottom line is Stealth Cams performance and reliability helps you become a better hunter in the field.
To learn more about the all new Stealth Cam G Pro series, email Kim Cahalan or visit www.stealthcam.com.
G45NG Pro Features:
14 Megapixel – Adjustable (14mp/8mp/6mp/2mp)
100ft invisible night time illumination range
Reflex Trigger less than ½ second
Security Mode (re-write SD memory)
HD Video recording 5-180 seconds w/ audio
Time Lapse with PIR Override
10% Smaller than G Series
PIR Adjustable range out to 100 feet
45 NO GLO or BLACK OUT IR EMMITERs
Intuitive backlit menu programing
Matrix Advanced Blur Reduction
Retina Low Light Sensitivity
16:9 Wide Image Ratio
Quick Set pre-programmed option
Burst Mode 1-9 images per triggering
5-59 sec/ 1-59 min recovery time out
Time/ Date/ Moon Phase/ Temperature/ Name Stamp
GEO-TAG GPS Tagging
Manual Shot capability
Secure lock password protection
SD Card slot up to 32GB
Test Mode
Video & USB output
Operated on 8 AA batteries
External power jack for 12V battery box
Active time setting
Multi Lingual (English/ French/ German/ Spanish)
Preset Time & Date (CST)
MSRP: $199
About Stealth Cam, LLC:
Founded in 2000, Stealth Cam, LLC offers a variety of digital scouting/surveillance and specialty cameras, along with a variety of accessories to enhance output of these products. For more information, contact: Stealth Cam, LLC, 3385 Roy Orr Blvd. Grand Prairie, TX 75050, Phone: 877-269-8490,http://www.gsmoutdoors.com/stealth-cam or email [email protected] Stealth Cam is a division of GSM Outdoors.
Learn more about their brands at www.gsmoutdoors.com.