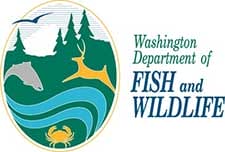 Olympia, WA -(AmmoLand.com)- Preliminary tests indicate bacteria found in an abnormal hoof taken from an elk killed in a vehicle collision in Skagit County east of Sedro-Woolley may be the same strain found in diseased elk in southwest Washington.
Last month, the Washington Department of Fish and Wildlife (WDFW) sent abnormal hooves collected from four elk in northwest Washington to Colorado State University to test for treponema-associated hoof disease, which has infected two elk herds in southwest Washington.
Results came back negative for three elk harvested by hunters in Whatcom County, but the sample from Skagit County revealed microscopic evidence of treponema-associated hoof disease, said Kristin Mansfield, WDFW epidemiologist.
All four of the elk tested by the university were from the North Cascades herd – also also known as the Nooksack herd – which includes about 1,000 animals centered in Skagit and Whatcom counties. The hoof that tested positive for treponema bacteria was taken from an elk found dead along Highway 20.
"We routinely send disfigured elk hooves from around the state for testing, but this is the first one outside of southwest Washington that shows evidence of this disease," Mansfield said. "At this point it is unclear whether this condition will spread to other elk as it has in the affected area."
Mansfield said WDFW now plans to have hoof samples from the animal sent to testing facilities at Washington State University and the U.S. Department of Agriculture to confirm the initial findings and determine whether the bacteria are the same strain found in southwest Washington. Test results are expected next month.
Treponema associated hoof disease was first diagnosed in southwest Washington elk herds in 2014, after five years of analysis by five independent laboratories. While relatively common in livestock, hoof disease caused by treponema bacteria had never before been diagnosed in wildlife.
Starting in the late 1990s with reports of elk with hoof deformities in the Cowlitz River Basin, the disease has spread to a number of counties in southwest Washington, affecting both the Mount St. Helens and Willapa Hills elk herds.
WDFW is currently conducting two studies pertaining to hoof disease – one to assess the prevalence of the disease in southwest Washington, the other to gauge its effects on elk survival and reproduction.
As a precautionary measure, the department investigates reports of abnormal hooves from elk killed by hunters, traffic accidents and other causes and submits those showing signs of the disease for testing, Mansfield said.
To report elk with hoof deformities or learn more about hoof disease in elk, see WDFW's website at http://wdfw.wa.gov/conservation/health/hoof_disease/.
About WDFW:
WDFW is dedicated to preserving, protecting and perpetuating the state's fish and wildlife resources. The department operates under a dual mandate from the Washington Legislature to: Protect and enhance fish and wildlife and their habitats. Provide sustainable, fish- and wildlife-related recreational and commercial opportunities.
For more information. visit: www.wdfw.wa.gov.