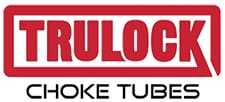 Whigham, GA -(AmmoLand.com)- Trulock Chokes will introduce a totally new internal design of special purpose choke tubes at the 2016 SHOT Show (January 19-22 in Las Vegas NV.).
Chokes of this design have given an increase in performance by improving both pattern consistency and pattern density. All brands and loads of shotshells that we have tested in these chokes have shown an improvement over the conventional conical parallel choke design.
The chokes are made from heat treated, high strength 17/4 stainless steel to resist wear and deformation. They have a black oxide finish to reduce glare and are laser marked on the body with the style and exit diameter.
All Trulock Chokes have a lifetime warranty against defects and also have a consumer 60 day 100% satisfaction guarantee or your money back.
They will be available for all popular brands.
About Trulock Gun Chokes:
The staff at Trulock Chokes prides itself on providing excellent service and an excellent line of products. In the event you are not completely satisfied with your purchase you can return it for a refund or exchange within 60 days from the date of purchase – with other firms, the moment you open it, you own it.
For more information, please visit www.TrulockChokes.com.