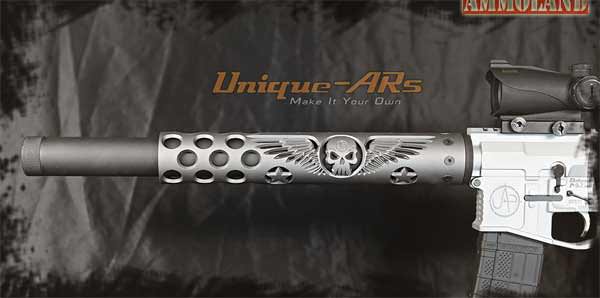 McCall, ID -(AmmoLand.com)- Unique-ARs, the premiere manufacturer of designer handguards, has expanded their product lines to include new and exciting features.
The 2016 line of stock handguards adds to the over two dozen stock designs already offered. They have also brought to market a "heat shield" which runs between the barrel and handguard.
Because of the open design of the many of the handguards the heat shield, although not necessary, can offer a layer of additional protection. The heat shield is lightweight and can be painted in opposing colors to help set off the handguard design. The heat shields come either handguard length or barrel length.
Unique-ARs handguards do blend function and form. They are free floating, made from durable 6061 t6 aluminum, and come with options to mount picatinny rails for accessories. The stock handguards come standard in black, either Cerakote or Anodized. They also offer a wide range of custom color options through Cerakote. The stock handguards come in standard lengths of 7, 9, 12, and 15 inches. Each hand guard comes with a proprietary AR-15 barrel nut which can be upgraded to the 308.
The heat shields are made from aluminum to keep them light, and help to dissipate heat. The handguard length heat shields mount to the end of the handguard with a nose cone. The barrel length heat shields mount to the end of the barrel with a threaded end cap which replaces the muzzle device. The heat shield is an excellent way to add additional color to your rifle.
As 2016 progresses watch for new product releases including a full custom upper and custom rifles. Unique-ARs is always looking for ways to evolve the market into new and uncharted territories with designer options and products.
Unique-ARs is a family owned and operated company that has a passion for the unique and artistic side of machining. Unique-ARs was started in 2012 by three cousins with an interest in firearms and machining. Looking for a way to merge the two, they developed their first design and have been moving at a full run ever since to keep up with the market demands.
Visit them at the 2016 Shot Show, booth #3464.
About Unique-ARs:
Unique-ARs, A team of designers, machinists and marketers that manufacture and fabricate custom proprietary free floating handguards, parts and accessories for the AR platform. Global headquarters are based in McCall, Idaho.
For more information on Unique-ARs, call 1-888-982-8386 or visit www.Unique-ARs.com.