By David Codrea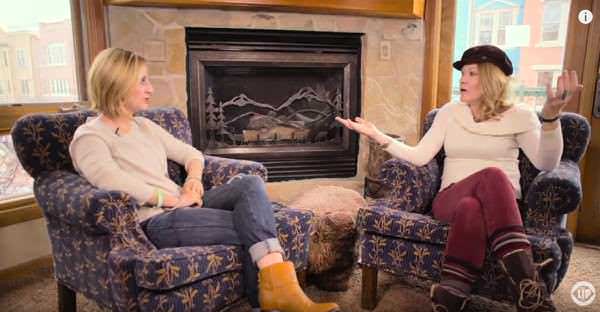 USA – -(Ammoland.com)- It's almost like The LipTV set out to create a parody of all the stale, debunked lies the gun-grabbers use to try and con people out of their right to keep and bear arms. "Under the Gun Documentary, and NRA Myth of Good Guys with Guns," features three wholly unqualified commentators doing their utmost to convince viewers that defensive gun uses only happen in the imaginations of paranoid gun owners.
What makes filmmaker Stephanie Soechtig an authority, besides her affiliation with the Clinton Foundation, is unclear.  Her CV mentions nothing about any firearms knowledge or training, and even the "statistics" she spouts suggest the whole of her subject matter expertise consists of being able to parrot back a few Bloomberg Mom talking points.
Ditto for host Ondi Timoner. She may be a first-rate producer of Robert Mapplethorpe documentaries nobody but the artsy set cares about, but her insights on defensive gun usage seem limited to being snarky and judgmental (all the while smugly ignorant enough to  believe she actually knows what she's talking about).
The first lie, presented — with the obligatory "progressive" air of Alinsky Rule 5 ridicule — is that a "good guy with a gun" never stops a "bad guy with a gun." Of course they do, all the time, despite Ondie's assertion that it's "the worst argument."  Unlike LipTV, Guy Smith's indispensable "Gun Facts" backs its claims with more than derisive expressions, and with source citations that go beyond the sound bites relied on by hoplophobe dilettantes.
"There had not been one documented case of a mass shooting stopped by a good guy with a gun," Soechtig proclaims, narrowing the scope to try making her declaration "bulletproof ".
Except of course there have been. But the problem with most of the highly-publicized cases is so many take place in so-called "gun-free zones." Still, if we're going to play that game, there hasn't been one documented case of the Secret Service stopping a presidential assassination with a gun.
Absurd argument? You bet. But no more so than the "interview's" premise.
Besides, just about every mass shooting has been stopped either by a uniformed "good guy with a gun," or by the killer taking himself out after those "good guys" show up and he realizes it's checkout or surrender time. The obscene problem is, by then, there's generally a body count courtesy of "No Guns" signs that all the "law-abiding" victims regrettably heeded.
Next Stephanie turns her attention to "concealed carry permits or open carry holders." Let that one pass — there's too much more ground to cover.
"You don't need training," she announces. "So I can get a permit that says I can secretly carry a gun, but I don't need training classes, I don't need to prove that I can use this weapon."
I see from Stephanie's LinkedIn profile that she hails from the People's Republic of Santa Monica. Perhaps being a "progressive" media darling, she'll qualify for one of those rare "may issue" permits reserved for the connected elites (and their bodyguards).  Even so, there's still this little matter of California Penal Code § 26165 that begs to differ with her.
"And then you see in the Tucson shooting, we follow Gabby Giffords and Mark Kelly, there was a good guy there, who almost shot the wrong person," Soechtig continues in her naked attempt to discredit concealed carriers. "He almost shot the person that was trying to detain the bad guy…"
Yeah, but he didn't. He assessed the situation, acted responsibly, and helped subdue the attacker. Importantly, he was prepared if circumstances had unfolded differently.
And if we really want to talk about shooting the wrong person…
"Having a gun in your home, it's like three times more likely to be used against you than in self-defense," Soechtig keeps on digging, just like she knows where this particular hole leads. "Some studies even say 22 times more likely, but I'm gonna go conservative…"
That'll be the day. Besides, you can't, lady. You're trying to influence public policy to favor citizen disarmament, so get it right or get called out on it. Which is it, who says so, and what were the circumstances under which such a BS statistic was derived?
I remember back when it was 43 times, in the thoroughly debunked Kellermann "study", the one that included criminal households in the sampling, and refused to release raw numbers. That's the same Arthur Kellermann, incidentally, who told Health Magazine back in 1994:
"If you've got to resist, you're chances of being hurt are less the more lethal your weapon. If that were my wife, would I want her to have a .38 Special in her hand? Yeah."
The interview then plays a clip from some guy I don't recognize who gives a variation of the "All gun owners are law-abiding until they're not" misdirection the antis throw out at every opportunity. Were such "logic" applied consistently, it could be restated as everyone with hands is a potential strangler. And all men are rapists in waiting.
"The problem is, people are not sorted out into good people and bad people," whoever this guy is continues, obviously convinced he has something insightful to share. "Everybody has a potential for some kind of conduct, whether it's anger, depression, fear, sudden mental disorder, to do something bad with a gun."
Yep, including the "Only Ones" the monopoly of violence crowd wants to be armed.
It's misdirection anyway. This good little feminist male is the one bringing up motive.
A bad guy with a gun is a guy exhibiting threatening behavior with one. At that point, who cares whether he's a lunatic or misunderstood or just a scumbag? All anyone should care about is stopping him, and quickly.
That makes it fair to ask our panel of "experts":
What WOULD stop "a bad guy with a gun?"
It also makes it fair to ask, were a bad guy with a gun to start shooting in the vicinity of Ondie or Stephanie or of Mr. Collective Guilt, what any one of them would personally be prepared to do about it. Or if he came after them with a meat fork, for that matter.
If it happened around you, might you be prepared to do more? And should that be your choice, or theirs?
About David Codrea:
David Codrea is the winner of multiple journalist awards for investigating / defending the RKBA and a long-time gun rights advocate who defiantly challenges the folly of citizen disarmament.
He blogs at "The War on Guns: Notes from the Resistance," and also posts on Twitter: @dcodrea and Facebook.