By Jason Reid

Looking at the expansive rows of unique guns here at SCI 2016 can make any collector of fine firearms go crazy.  I'm actually sure it does. Classy shotguns and rifles with gold inlays, unique artwork and beautiful assortments of stocks were presented alongside guns with significant history. Here are several guns which peaked my interest at the convention.
The Corbett Rifle:  Known for its significant history, the gun Jim Corbett used to kill man-eating tigers and leopards, the Rigby .275, was on display here at the convention and replicas were up for auction. Jim Corbett wrote seven books on his harrowing tales and the gun itself I had the privilege  to hold. This gun has a crazy history of being confiscated, lost and found again.  This gun wasn't really built to kill animals weighing 500 lbs. or more but Corbett was an excellent marksman.  Shot placement was everything. To make things a bit more interesting, Corbett was supposedly a superstitious  man and was known to carry only three bullets at a time. Corbett  must have had nerves of steel. I liked the short forend stock and thin handle. It shouldered very well  and I can see how Corbett was able to successfully shoot it one handed to kill the famed man-eating tigress.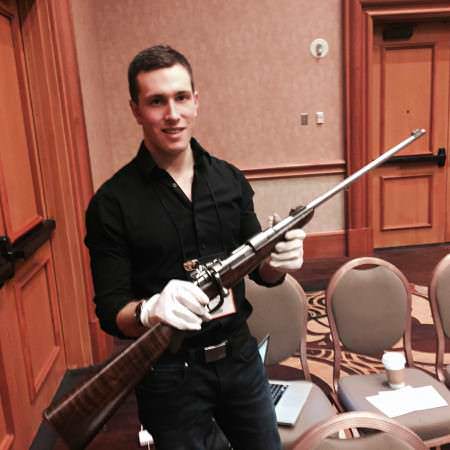 Fierce Firearms Carbon Edge: Fierce Firearms makes their own actions and barrels instead of private labeling other designs. The Carbon Edge has both a carbon stock and barrel. The barrels they make have 3X the modules carbon fiber material than most competitors. This makes for a stiffer barrel which cuts down on vibrations and increases accuracy. Fierce lays carbon from three different directions.
The Carbon fibers are bonded the entire length of the barrel for more consistency and predictability on the range and in the field. The Fierce Carbon Edge weighs 6.4lbs. and is available in 29 different calibers.
HEYM Express:  The HEYM Express is one of the most detail oriented guns you can find. Built with a cartridge specific action and magazine, the  beautiful safari engraving patterns in the inlay of all HEYM rifles make these guns stand out. HEYM also makes all their barrels in house to have master control over the quality. When you are building guns for big and dangerous game, the details are everything. This is not the place to try to cut corners.  These rifles can be ordered to your custom specifications and are available in 19 different calibers.
Beretta A-400 Xtreme: There are two types of hunters within the bird hunting niche.  You have the gentleman shooter and the gritty waterfowler. Regardless of where you fall, the Beretta A-400 provides the protection and performance you want from a gun. The A-400 Xtreme is available in Optifade and Realtree camouflage patterns. Beretta uses a proprietary tri-alloy blend of materials used in the barrels. These barrels help with consistency regardless of steel or lead shot. 
These beautiful guns are reflections of passion, art and performance engineering from around the world.  Wether you collect guns for their value or buy them for their superior performance in the field. There was not a shortage of rifles and shotguns to fit your adventure at the Safari Club International convention. 
About Jason Reid:
Jason Reid is a writer and business professional from upstate New York. After deciding to pursue his dream of becoming an outdoor writer, Jason started a blog from his dorm room at Houghton College, growing it and working hard to earn opportunities. While bowhunting big game is his ultimate passion, Jason welcomes all outdoor challenges which force him to push his limits. Jason's work can be viewed on his website Pushingthewildlimits.com