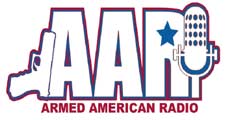 West Bend WI – -(Ammoland.com)- Beginning this weekend Sunday Feb. 7th, 2016 Breitbart News' award winning journalist AWR Hawkins joins nationally syndicated Armed American Radio host Mark Walters as regular weekly contributor and official on-air political analyst. Hawkins will be heard each week on the national radio broadcast during the program's second hour between 9-10p ET, 6-7pm PT.
Listeners will hear Mr. Hawkins bring his Breitbart News stories to the national radio audience in a discussion format not heard anywhere else.
Host Mark Walters said, "AWR Hawkins won the 2015 Gun Rights Journalist of the Year Award for good reason. Every day he brings his unique insight and journalistic skills to the readers at Breitbart News while covering the issues that matter to all American freedom lovers and gun owners."

"His writing style and his topics of coverage are a perfect fit for Armed American Radio and I am looking forward to bringing his voice to the airwaves each week. Listeners will now be able to hear his Breitbart News stories come to life on air as he defends our freedoms in print every day. I haven't been this excited about a development at Armed American Radio Network since the start of the daily program last March! Fans are in for an exceptional and educational weekly experience from this award winning Breitbart News journalist and it is my honor to welcome AWR Hawkins to Armed American Radio as a regular contributor!"
AmmoLand readers can listen to AAR online. Station down load info is found here: http://armedamericanradio.org/station-list/  h/t PLohr
About the USCCA:
The U.S. Concealed Carry Association (USCCA) is the first and largest, member-owned association designed to educate, train, and insure responsibly armed Americans. USCCA members receive access to a wealth of industry information and insurance protection through its Self-Defense SHIELD program. The USCCA also provides expert advice, product information, and the latest news centered around the concealed carry lifestyle via email, social media, Concealed Carry Magazine, and their nationally syndicated radio program Armed American Radio.