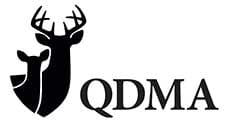 ATHENS, GA – -(Ammoland.com)- Johnny Morris, the founder and "Chief Fishing Officer" of Bass Pro Shops, received the Joe Hamilton Lifetime Achievement Award at the QDMA 2016 National Convention in Louisville, Kentucky. The award was bestowed by Quality Deer Management Association (QDMA) founder Joe Hamilton.
"Visit any of the 56 Bass Pro Shops stores in 26 states and you'll see the official logos of their partners in conservation," said Hamilton.

"The QDMA logo has been on display for 13 years and this partnership has generated over $700,000 to help fuel our mission."
In presenting the Lifetime Achievement Award, however, Hamilton spoke more to Morris's personal character than to his many well-known achievements through his chain of outdoor retail stores or his strong support of QDMA.
"Johnny, we have crossed paths a number of times in recent years. I sat on the bank of Tony Stewart's pond in Indiana and watched you fish with a young cancer patient. You gave him your undivided attention on what was likely his final fishing trip," said Hamilton.

"I sat proudly in the audience at the Bass Pro Shops store in Springfield a while back as the QDMA and nine other conservation organizations donated 10 track chairs to the Missouri Department of Conservation in your honor. They were to be used by handicapped hunters on public hunting lands. I have observed the interactions between you and your children on several occasions and I applaud your role as a father and mentor. As your friend and founder of the QDMA, I would like to bestow upon you a well-deserved title based on all you have done for our organization, the noble whitetail, and me. I proudly announce that Johnny Morris is the recipient of the Joe Hamilton Lifetime Achievement Award."
In his comments at the QDMA National Convention, Morris pointed to the 79th anniversary of Ducks Unlimited (DU) and compared the conservation importance of DU for waterfowl to that of QDMA for white-tailed deer.
About Quality Deer Management Association
Founded in 1988, QDMA is a national nonprofit wildlife conservation organization dedicated to ensuring the future of white-tailed deer, wildlife habitat and our hunting heritage. To learn more about QDMA and why it is the future of deer hunting, call 800-209-3337 or visit QDMA.com. QDMA can also be found on: