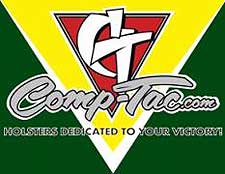 HOUSTON, Texas –  -(Ammoland.com)- Comp-Tac Victory Gear's, newest addition to their concealed carry and competition holster offerings, The Q Line, made the most successful sales debut in company history at the 2016 SHOT Show.
During the week of January 18th through January 22nd 2016 Comp-Tac sold over 1200 Q Line products to current dealer customers as well as new dealers signed on at the 2016 SHOT Show.
The Q Line products are the first multi-fit holsters offered by Comp-Tac. In only 4 sizes, each style of holster covers approximately 80% of the most popular handguns on the market. Holster styles include: the QH; a hybrid holster for inside the waistband wear, the QI; an all Kydex inside the waistband holster and the QB; an outside the waistband holster perfect for range use.
The Q Line was developed based on feedback from both retail and dealer customers. Many individuals are frustrated by the fact that when they buy a new gun they sometimes have to wait to order a holster for it. Many gun shop owners shared a similar frustration of not being able to stock holsters for new guns, or have enough holsters on hand to service their customers. The Q Line solves these problems with the multi-fit design.
"Going into SHOT Show we had high hopes about how the Q Line would appeal to customers. While at the show we pleasantly surprised with how well the customers received them. Retailers all over the United States will be carrying the Q Line and the first shipments have already left our building," commented Gordon Carrell, general manager at Comp-Tac.
The Q Line products are available at www.comp-tac.com and over the phone at 281-209-3040.
For more information on the full line of Comp-Tac holsters and gear, visit www.Comp-Tac.com, follow Comp-Tac on Facebook at www.facebook.com/CompTac, Twitter at @CompTac or visit our Blog.