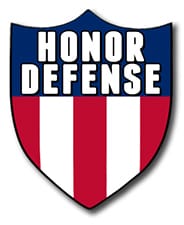 Atlanta, GA -(AmmoLand.com)- Congressman Doug Collins (R), who represents Georgia's 9th Congressional District, recently toured the Honor Defense plant and offices in Gainesville, Georgia.
"As a strong advocate for Second Amendment rights, I was excited to see the firearms industry up close and personal, and talk to the folks who design and manufacture these handguns," Collins noted on his official Facebook page following his visit. "They even let me put together one of their products!"

"We were honored to host Rep. Collins," said Gary Ramey, President of Honor Defense.

"His Congressional district encompasses Gainesville. He was impressed not only with the fact we've started a new business here from the ground up, but that our pistols are made from 100-percent American made parts, assembled in America."
With some good coaching from Honor Defense staff, Collins was able to assemble an Honor Defense pistol in just four minutes! The son of a Georgia State Patrolman, Collins grew up understanding and respecting the Second Amendment, and is a staunch supporter of this key Constitutional right.
Honor Defense manufactures five models of concealable 9mm pistols, and began shipping the handguns to dealers in early February.
Honor Defense pistols are built with high quality standards and feature:
Striker-fired design that can handle +P loads
Trigger has a wide face with a crisp 7lb pull
Short reset for quicker second shot and better control
Ambidextrous slide catch and magazine catch
Available with or without an ambidextrous manual safety lever
Modular system with stainless steel chassis
Custom texture design to provide better grip in all situations
Replaceable back straps to allow customization.
For more information, visit their Facebook page or website at www.honordefense.com.
About Honor Defense:
Honor Defense offers the finest American-made pistols-using only American partners and materials. Honor Defense pistols are built with more features and higher quality standards than other pistols in their size range. To create its pistols, Honor Defense secured input from a panel of professionals that have defended our nation or have extensive credentials in self-defense training.
For more information, please visit www.HonorDefense.com.