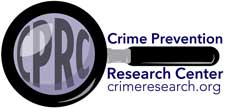 USA – Crime Research Prevention Center has some upcoming talks or debates in Harrisburg (PA), DC, Elko (Nevada), and Indiana.
The first of these talks is today in Harrisburg, Pennsylvania.
These talks will be mostly focused on the dangers of gun-free zones and why allowing legal guns on college campuses will keep students safer. The schedule of talks are provided in the links below.
Dr. John Lott's newest piece in Investor's Business Daily explained an important impact of the "nuclear option" in judicial confirmations.  While most discussions of Obama's impact on the federal courts focuses on the number of judges that he has confirmed, John argues that dramatically underestimates Obama's impact.  He explains why traditionally it has been hardest for both sides to confirm their brightest nominees and how the elimination of the filibuster allowed Obama to put on the benches judges who will be much more influential.
Several media outlets have covered the newly released Crime Research Prevention Center Survey of Economists and Criminologists views on guns, including the Laura Ingraham Show, LIFEZETTE, and HotAir.  Fox News also interviewed Dr. Lott about the 20% rise in apparently random slashing attacks in the New York City area over the past year.
With the sudden death of respected Supreme Court Justice Antonin Scalia, many Americans are wondering what this could mean for gun control in our country. Dr. Lott had several interviews where he explains the valid concerns many Americans have and why they should be taken seriously with President Obama having the ability to fill the Supreme Court Justice vacancy.
About Crime Prevention Research Center
The Crime Prevention Research Center (CPRC) is a research and education organization dedicated to conducting academic quality research on the relationship between laws regulating the ownership or use of guns, crime, and public safety; educating the public on the results of such research; and supporting other organizations, projects, and initiatives that are organized and operated for similar purposes. Visit: www.crimepreventionresearchcenter.org