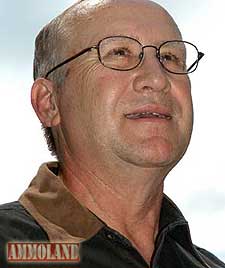 USA –  -(Ammoland.com)- If you had a successful deer season, more than likely, you've got plenty of venison in your freezer.
Many men and women don't know how to properly prepare and cook venison which is very low in cholesterol and fat. It is also one of the healthiest meats you can eat. Below is one of our favorite recipes of the more than 100 recipes for appetizers, soups, salads, vegetables and desserts in our new book "Deer & Fixings: How to Cook Delicious Venison".
MR. MILLER'S VENISON ROAST
The simplicity of this dish may cause you to think there's not much to it, but we promise – this recipe makes one of the most-delicious roasts ever.
Ingredients:
1 (3-4 pound) venison roast that all the white connective tissue has been cut off of and that has been soaked, covered in heavily-salted water, overnight in the refrigerator, and then thoroughly washed before preparing dish.
1 cup water
1 package dry onion soup mix
5 pieces of bacon (optional).
Preparation: Make a paste of the dry onion soup mix and some water; rub all over the roast. Place 1 cup water in roasting pan. Cook at 250 degrees in oven, covered, for about 4 hours or until tender. Or, crisscross with bacon slices, and place in a smoker for 8 hours.
This venison cookbook is the combined cooking knowledge and experience of more than 90 years of testing and preparing delicious venison dishes that are heart-healthy, low in fat and calories and high in protein. Learn how to field-dress a deer, how to prepare and cook deer meat and what side dishes to serve with your wild game. This guide contains more than 100 venison recipes prepared with ground venison, venison loins, venison roasts, venison steaks and venison stew meat, along with over-150 delicious vegetable, soup, appetizer, salad, bread and dessert recipes.
These recipes are made with easy-to-find ingredients and are great ways to use your freshly-taken venison, or to clear-out the leftover venison you have in your freezer. Most recipes are on one-page each, so you can lay your tablet or phone on the kitchen table and follow the directions for the recipe. Too, you can download the book on your SmartPhone, lay your phone on the kitchen counter and read the directions for each recipe. E-books make taking your cookbooks with you anywhere easy! Many of these recipes can be prepared at home and taken to the deer camp or the fishing camp to be enjoyed at a later date.
Question: John, why does the world need another venison cookbook?
Phillips: When my wife Denise and I first started this book, the recipes and suggestions came from the survival manual we had compiled in college. During the 3-1/2-years required for me to earn a college degree, I averaged hunting or fishing 3-4 days a week, either before school, after school or on the weekends at my hunting club only 10-minutes from the University of West Alabama where I graduated. We also served our delicious venison to friends and family. The game that I took and the fish that we caught helped not only feed us and drastically reduce our grocery bill, but also helped to feed quite a few other families in the married students' apartments where we lived. Venison was the most-abundant meat that we had at that time because the State of Alabama was severely overpopulated with whitetails. Because we had an abundance of venison, my wife Denise, who also liked to hunt, became very skilled at preparing it many-different ways, so that it never became boring.
Question: I understand that for you and your wife, developing these recipes was important many years ago. But why is a venison cookbook so important today?
Phillips: Obesity, heart trouble and cholesterol problems are some of the top medical problems in the United States, and venison is the leanest, most cholesterol-free meat you can eat. Also, people in this country are becoming more concerned about the additives and antibiotics being put into feed for cattle, chicken and swine. There's not a more-organic meat or a more all-natural meat than venison or other wild animals that feed off the bounty of the forest, so this book is more timely now than when we first wrote it. Too, we tell how to prepare ground venison and ground venison sausage, since many hunters find it easier to prepare. The second question I'm asked most often, besides how to prepare venison, is, "What do you serve with venison?" That's the reason we have the sections on appetizers, salads and soups, breads, vegetables and desserts.
Question: Which of these recipes do you like the best?
Phillips: There's not one of these recipes that I don't like. If I hadn't eaten venison and vegetables and the other dishes that are in this cookbook, I wouldn't have put them in the cookbook. But I can honestly say that my wife is so creative with foods, and I've met so-many different hunters who have showed me their secrets to making delicious meals, that I enjoy every one.