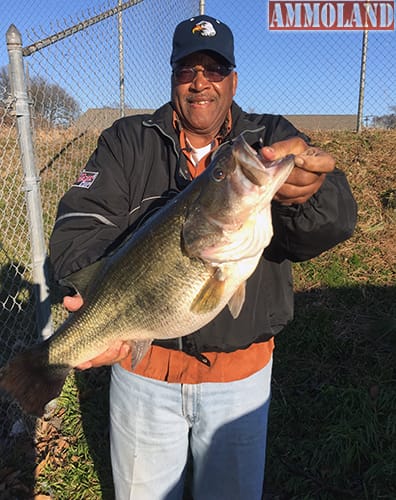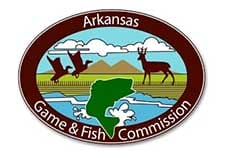 Pine Bluff, AR -(AmmoLand.com)- Having only one fish to weigh at a bass tournament usually isn't thought of as a good day, but Eugene Moore Jr. weighed his single fish with pride at the Metro Area Bass Club tournament on Lake Chicot, Feb. 13.
The 10.25-pound beast not only claimed big bass for the day, but also took first place on its own. Moore said a cold front had come in right before Valentine's weekend, and the temperature had dropped into the mid-30s by the time the tournament began.
"Those fish just shut down for the day," Moore said. "I was really fortunate to put that black and blue jig right in front of this fish about an hour after the tournament started."
Jim Briggs, a new member to the club was fishing with Moore and netted the hooked fish.
"He missed on the first shot and she took a good run," Moore said. "I was able to turn her and give him another shot, and he nabbed her. We talked all day after that about our 'Miss Valentine.'"
After weigh-in, Moore contacted the Bass Pro Shops store in Little Rock to see if they would like it for their aquarium.
"They said yes, but when we arrived the manager was no longer available," Moore said.
Moore was able to keep the fish alive until Monday, Feb. 15, but by then it was not able to be placed in the aquariums.
"Bass Pro said their policy for their aquarium was that it had to be in their possession within 24 hours of the catch," Moore said. "After that it couldn't be taken in."
Fortunately, the Arkansas Game and Fish Commission Gov. Mike Huckabee Delta Rivers Nature Center was able to take the fish for its aquariums. It's not common practice to accept fish from anglers, but because the fish was still in good health, it could be added to the center's display.
Kelly Winningham, fish pathologist for the AGFC, said she's always excited to hear about big catches, but catch, photo and release is still the best policy to avoid spreading possible diseases or parasites.
"This particular incidence of displaying this trophy fish is an isolated event," Winningham said. "AGFC recommendations are to harvest fish for consumption or mounting, otherwise take a picture and release it back into the waters where it was caught as soon as possible."

"A fin clip was collected from this fish for genetic analysis since it is from a waterbody where Florida Largemouth Bass are stocked and the fish is being displayed."
Anyone wanting to view the Chicot beast can find it swimming in the main aquarium at the Delta Rivers Nature Center in Regional Park in Pine Bluff. Visit www.deltarivers.com to see a full list of events and programs at the center.
About Arkansas Game and Fish Commission:
The Arkansas Game and Fish Commission plays an important role in keeping The Natural State true to its name. During the last 100 years, the agency has overseen the protection, conservation and preservation of various species of fish and wildlife in Arkansas. This is done through habitat management, fish stocking, hunting and fishing regulations, and a host of other programs.
For more information, visit www.agfc.com.