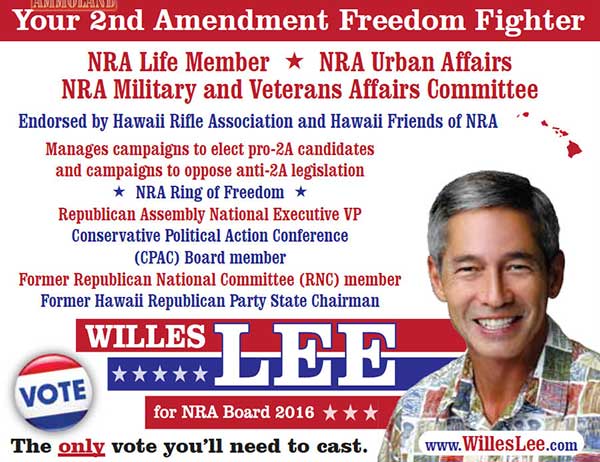 Hawaii – -(Ammoland.com)- Aloha everyone,
The Hawaii Rifle Association and Hawaii Friends of NRA are endorsing Willes K. Lee for the 2016 NRA Board.
We ask for your support and vote for Willes K. Lee.
For more information please logon to HRA's website at: www.hawaiirifleassociation.org
Mahalo,
Madeleine
Statement by Willes K. Lee.
Willes K. Lee

I am honored to be able to ask for your vote, I am Willes Lee. Endorsed by the NRA Nominating Committee, my goal is to continue the valuable tradition of the NRA, and to assist organizations and elect legislators at every level of government to secure our Second Amendment rights. These civil rights are attacked daily. Political action and the NRA-ILA stands between your self-defense, love of hunting and shooting sports, collecting and gun ownership and those who want to take your rights.

An NRA Life Member, I was the first person from Hawaii appointed to an NRA committee having served on Urban Affairs, and now a member of the Military and Veterans Affairs Committee led by LtCol Oliver North. Each Board and Committee member also assists the NRA Foundation, NRA Civil Rights Defense Fund, and the Special Contribution Fund.

Our NRA Board of Directors is strong. We are well-represented by celebrities, manufacturers, hunters, sports shooters, and lawyers. The need to secure our rights is political. My focus is on national, state and local candidate campaigns and legislation to defend our Second Amendment Rights, having led or been a member of campaigns in Hawaii, Virginia, New Mexico, and Delaware.

Endorsed for election by the Hawaii Rifle Association and the Hawaii Friends of the NRA, we work every session with Democratic and Republican legislators to maintain and improve what we have, and stop further loss of rights. A strong supporter of Hawaii Friends of NRA to help fund youth shooting sports and safety, scholarships, and competitions, I've coordinated several NRA Presidents to speak at our Annual Banquet and other Second Amendment-supporting organizations.

Send me your questions. ( [email protected] ) Elect someone to the NRA Board of Directors whose goal is to ensure your right to have, use and enjoy your civil (gun) rights. I humbly ask for your vote for NRA Board of Directors.

Thank you.
Willes K. Lee
About Hawaii Rifle Association;
HAWAII RIFLE ASSOCIATION, a non-profit organization registered and incorporated within the State of Hawaii and representing the National Rifle Association as its State Affiliate Organization for the State of Hawaii. Visit:www.hawaiirifleassociation.org