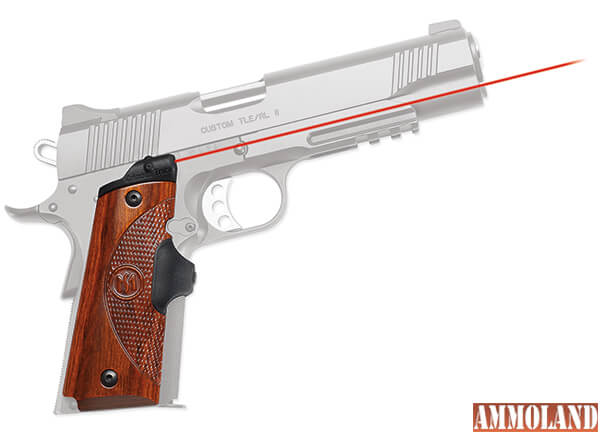 Wilsonville, OR -(AmmoLand.com)- Gun owners are well known for talking to other gun owners with the discussion topics ranging from the most recent pistol purchase, to ammo availability, and to a favorite concealed-carry handgun.
More and more of those conversations now include information and discussion about Crimson Trace laser sights. Friends tell friends about Crimson Trace products—and the benefits of having a laser sight installed on a firearm.
"I had a chance today to show several friends (and even two strangers) at my local gun range how the laser improves one's aim and accuracy," wrote Mr. J. Greene from South Carolina. "I know they were impressed." This is an example of the stream of favorable customer testimonial letters received at Crimson Trace.
There is plenty to write—and talk—about. With more than 200 laser sights, and with more green laser sights than the rest of the laser industry combined, Crimson Trace is clearly the nation's leading laser sight manufacturer. Additionally, the diverse Crimson Trace products fit on specific revolvers, and on pistols by leading manufacturers such as Kimber, Glock, Smith and Wesson, Ruger and others. Crimson Trace products such as Lasergrips are precision engineered to be perfect replacement grips on a large group of firearms. Installation generally requires the use of a screw driver and does not require special gunsmithing skills.
Another point that Crimson Trace laser sight owners tell other gun owners is about the company's Free Batteries for Life program—the only owner assistance of this type in the industry. The Wilsonville, Oregon based company recently expanded its FREE batteries program to cover nearly all Crimson Trace product categories, such as Lasergrips, Rail Master, Laserguard, Lightguard and others, except the Defender series and some Bodyguard products.  To enter the Crimson Trace Free Batteries For Life program, customers should call the company's customer care center (800-442-2406), go to www.crimsontrace.com and register online, or complete and mail the registration card included with the product at purchase.
Customer Service is a way of corporate life that Crimson Trace takes great pride in, and letters arrive frequently about the caring and professional service provided by the company's customer service team. Those dedicated Crimson Trace customers also relay information about events ranging from self-defense uses to training experiences that result in improved accuracy. Crimson Trace customers regularly tell friends about the company—and its many products.
Crimson Trace is widely recognized as the world's leading brand of laser sights and tactical lights for firearms. All Crimson Trace laser sight products can be easily installed without requiring modification of the firearm. Crimson Trace also manufactures and offers consumers more green laser sights than all other manufacturers—combined.
Details about the company's innovative products can be discovered at www.crimsontrace.com or by calling 800-442-2406.
ABOUT CRIMSON TRACE:
Crimson Trace, based in Wilsonville Oregon, is the acknowledged world leader for laser sighting systems and tactical lighting for firearms. The company offers more than 200 products and its award-winning innovations include: LiNQ, Lasergrips, Laserguard, Laserguard Pro, Master Series and Lightguard  –all with Instinctive Activation. The company's product line also includes the Defender Series and Rail Master platforms. Crimson Trace proudly serves civilian, law enforcement and military markets around the globe.
More details are available at www.crimsontrace.com or by calling 800-442-2406.