By Major Van Harl
Henry Big Boy Steel Rifle in .41 Magnum review and background.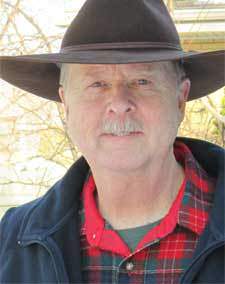 United States -(AmmoLand.com)- If you go back in US history to the 1850s, even before the Henry repeating rifle was made by the New Haven Arms Company, its predecessor the Volcanic Repeating Arms Company made a lever action firearm using a self-contained cartridge in .41 caliber.
A modern .41 caliber cartridge has been introduced to the Henry lever action rifle line. Henry Wisconsin started the manufacturing of their new Henry Big Boy Steel rifle in 41 Remington Magnum (H012M41) in January of 2016 (https://www.henryrifles.com/rifles/henry-big-boy-steel/).
As I was filling out the paper work at the Shooter Sports Center in Racine, WI. (www.shootersonline.com) Mike Arts the manager pulled the Henry 41 mag out of the box and shouldered the rifle. "You are not going to feel much recoil with that pad on the butt stock" was his first comment. As far as I can tell from doing my research there is no one in the firearms manufacturing industry that is making a lever action rifle in 41 mag.
There also appears to be a steady chatter on the internet from shooters who want a lever gun in 41 mag.
Enter Henry Big Boy Steel Rifle in .41 Magnum
The 41 Remington Magnum cartridge started out in the 1960s with hopes of it becoming the premier revolver ammunition for the law enforcement world. Even though the 357 mag had been in use for thirty years, the average police officer in North America carried a 38 Special revolver.
In most cases the ammo was a round nose 158 gr lead bullet, with not a lot of stopping power. The 41 mag was going to up the survival odds for a street cop in a 1970s gun fight, and in the few cases where it was actually used, 41 mag did in fact win the fight. The problem was back in the day, the average police department might only have their officers shoot their duty weapon twice a year. In some cases they also used cheap reloaded ammo for qualifying. There was no cheap 41 mag ammo and there were lots of problems getting the average cop to master this new larger handgun with a much more powerful cartridge. As a cop cartridge, the 41 mag was losing the political police budget fight, not the street fight.
In all honesty it was the high capacity semi auto handgun being introduced into the US police world in the 1970s that sounded the death knell for the revolver and the 41mag as a cop cartridge. There was also a very limited selection of 41 mag ammo on the market. The ammo selection concern has changed; I have found no less than eight outfits that make 41 mag ammunition. It is designed for handgun shooters, but this column is about a 41 mag rifle.
The Henry Big Boy Steel lever action rifle goes smoothly to your shoulder. It is over a pound and a half lighter than its older brother the Big Boy Brass Henry. Shooting a magnum handgun cartridge out of a seven pound rifle leaves even the most diminutive shooter with little recoil problems.
I hesitate letting the Lieutenant (my daughter) shoot this Henry for fear I will not get it back.
I believe it is an industry secret of Mr. Imperato's, the President of Henry, where he gets all the gorgeous wood he puts on his lever guns. It has a twenty inch barrel and holds ten rounds, with one in the chamber. Eleven rounds of 41 mag affords you a fighting chance if "walkers" are trying to cut you off in the middle of the night, on your way to the outhouse.
Given some of the new 41 mag ammo that is being manufactured and most importantly some of the greatly improve bullets in use today; there is nothing in the lower 48 States that a 41 mag coming out of a rifle cannot stop, if you keep it under a 100 yards, with the exception perhaps of a Grizzly. Of course having a 41 mag revolver to go with your new Henry lever action rifle is a force multiplier in the world of both hunting and disrupting evil.
Mr. Tim Sundles at Buffalo Bore Ammunition (www.buffalobore.com) has 41 mag ammo for any type of hunting. His 170gr JHP (16C/20) is moving out at 1650 fps. If you live in an area where you have to use lead free ammo, his 180gr Barnes XPB (16D/20) is pushing 1550 fps. If you prefer large lead bullets his 265 gr L.W.N. (16A/20) is traveling at 1350 fps. Remember all these published velocities are measured with handguns. When you start shooting this ammo in a twenty inch rifle barrel you can increase your velocities (depending on bullet weight) 200-300 more FPS. That equates to a lot of enhanced down-range energy. If you hunt in one of the shotgun only areas in the country that now allows the use of straight walled, pistol cartridge chambered rifles, the new Henry Big Boy Steel rifle in 41 mag will not fail you on opening day.
Now the fact that the new Henry Big Boy Steel 41 mag is made at Henry Wisconsin, in Rice Lake, here in the Badger State does not go unnoticed by some. Mr. Peter Etlicher is the design engineer for this new rifle. Mr. Etlicher and his crew, take Henry, take Wisconsin and add quality, roll them together and they produce, some of the finest firearms to come out of the northwoods of the mid-west, or any place else for that matter.
Karen Erickson is the production supervisor for the new 41 mag rifle. Her mission is to build quality into the rifle as it is produced, rather than trying to inspect problem areas out of the equation after the firearm has come off the assembly line. She has a profound understanding of the Henry rifle manufacturing process and constantly works to improve that process providing extremely high quality lever action rifles. Rifles you will want to own and because of that quality pass them on to future generations–quality lasts.
Built at the corner of Henry and Quality, the two are synonymous.
Major Van Harl USAF Ret. / [email protected]
About Major Van Harl USAF Ret.:
Major Van E. Harl USAF Ret., a career Police Officer in the U.S. Air Force was born in Burlington, Iowa, USA, in 1955. He was the Deputy Chief of police at two Air Force Bases and the Commander of Law Enforcement Operations at another. He is a graduate of the U.S. Army Infantry School. A retired Colorado Ranger and currently is an Auxiliary Police Officer with the Cudahy PD in Milwaukee County, WI. His efforts now are directed at church campus safely and security training. He believes "evil hates organization." [email protected]