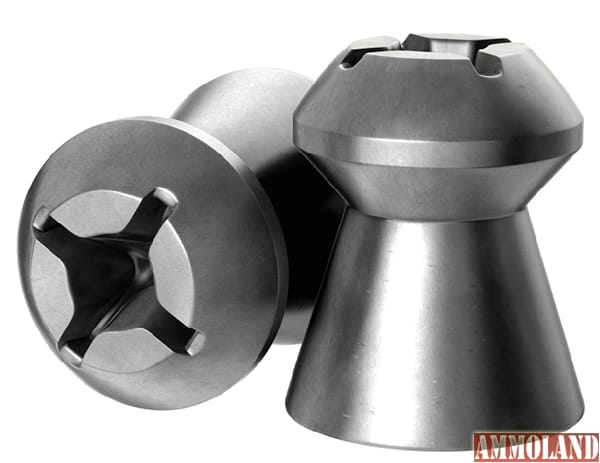 United States -(AmmoLand.com)- Four years after it was announced, H&N Sport's Baracuda Hunter Extreme has gained a reputation among airgun enthusiasts as one of the most lethal and effective pellets available.
Known for its unparalleled German engineering and innovation, H&N is pushed by the philosophy that not all pellets are created equal. The Baracuda Hunter Extreme is no different, and is designed to provide shooters with an effective, long-range hunting pellet that delivers rapid energy transfer and impressive expansion.
The Baracuda Hunter Extreme features a deep, cross-shaped hollow tip, which allows the pellet to rapidly expand upon impact without diminishing the pellet's aerodynamic properties.
This advanced design also allows for tremendous shock and instant energy transfer, making it a perfect pellet for birds and up to medium-sized game.
Like all pellets from H&N Sport, Baracuda Hunter Extreme pellets go through H&N's proprietary surface treatment that not only cleans the pellets from manufacturing residues, but also slows oxidation and reduces lead abrasion – ensuring clean shots with little lead fouling that is both good for your airgun and more safe to handle.
Caliber
 
Weight
Recommended 
Min. Muzzle Energy
 
Max. Distance
 
Pellets Per Tin
 
MSRP
.177
9.57 gr
12 ft.lbs
50 m
400
$15.99
.22
19.09 gr
18.5 ft.lbs
50 m
200
$12.99
.25
28.40 gr
18.5 ft.lbs
50 m
200
$13.99
We found the best price on H&N Sport's Baracuda Hunter Extreme Airgun pellets online at Amazon : https://tiny.cc/ogig9x ~ AmmoLand
About H&N Sport:
Founded in 1825, H&N Sport produces the world's most renowned airgun pellets with its exclusive state of the art in-house machinery and German engineering. By continuing the tradition of its founders, H&N Sport delivers products with outstanding and unmatched quality that shooters around the world have come to rely on and trust.
For more information visit: www.hn-sport.de.