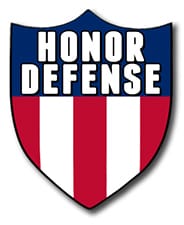 Atlanta, GA -(AmmoLand.com)- Honor Defense is excited to announce that Gearcraft Holsters, of Cummings Georgia, offers concealed carry holsters specifically for the new Honor Defense handgun line.
These Gearcraft holsters are available now, in sub-compact options for the new Honor Defense semi-automatic handguns.
"We have recently become acquainted with the Honor Guard line of pistols and are pleased to be adding holsters for this new pistol to our line. We have holsters for both left and right hand shooters in stock and ready to ship. We offer additional holsters and custom options. Log on to our website, Gearcraftholster.com, tell us what you need and we will make it. We also offer wholesale pricing." – Billie Fry, President of Gearcraft Holsters

"Gearcraft makes some very inventive and stylish holsters, most of them in Kydex," said Gary Ramey, President of Honor Defense. "Their IWB and OWB holsters are really finely paired with our new All-American Honor Defense pistols. We are very excited to be involved with the good people at Gearcraft in this partnership!"
See these new holsters on the Gearcraft website at: http://gearcraftholsters.com.
All Honor Defense pistols are built with high quality standards and feature:
Striker-fired design that can handle +P loads
Trigger has a wide face with a crisp 7lb pull
Short reset for quicker second shot and better control
Ambidextrous slide catch and magazine catch
Available with or without an ambidextrous manual safety lever
Modular system with stainless steel chassis
Custom texture design to provide better grip in all situations
Replaceable back straps to allow customization.
For more information, visit their Facebook page or website at www.honordefense.com.
About Honor Defense:
Honor Defense offers the finest American-made pistols-using only American partners and materials. Honor Defense pistols are built with more features and higher quality standards than other pistols in their size range. To create its pistols, Honor Defense secured input from a panel of professionals that have defended our nation or have extensive credentials in self-defense training.
For more information, please visit www.HonorDefense.com.