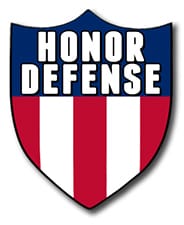 Atlanta, GA -(AmmoLand.com)- Honor Defense has begun shipping their line of All-American 9mm pistols.
Honor Defense firearms represent the next generation of modular handguns, and are built with more features and higher quality standards, than other pistols in their size range. A panel of military and self-defense professionals helped fine tune the design to produce the Honor Defense pistols.
"Consumer and dealer response has been strong, we are gearing up to service demand," said Gary Ramey, President of Honor Defense. "We have the best distributors lined up and look forward to working with them. In addition to having more features than other sub-compact pistols, we've received very positive feedback that we don't outsource our parts to other countries. All of our parts are made in America. With a modular design and more features than other firearms in the singe-stack 9mm category, we look forward to a strong 2016."
The first pistols shipped are the Sub Compact (HG9SC) and FIST (HG9SCF). Additional Honor Defense models are set to ship in Q1 2016.
All Honor Defense pistols are built with high quality standards and feature the following:
Modular design with stainless steel chassis
Ambidextrous slide catch and magazine catch
Striker-fired design that can handle +P loads
Custom texture grip and serrations that provide better grip in all situations
Replaceable back straps to allow custom fit
Trigger has a wide face with a crisp 7lb pull
Short reset for quicker second shot and better control
Two magazines with every pistol
For more information, visit their Facebook page or website at www.honordefense.com.
About Honor Defense:
Honor Defense offers the finest American­ made pistols ­using only American partners and materials. Honor Defense pistols are built with more features and higher quality standards than other pistols in their size range. To create its pistols, Honor Defense secured input from a panel of professionals that have defended our nation or have extensive credentials in self­ defense training.
For more information, please visit www.HonorDefense.com.