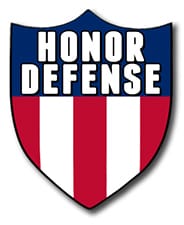 Atlanta, GA -(AmmoLand.com)- Honor Defense and DeSantis Holsters have joined forces to offer high-quality DeSantis holsters to fit the new, All-American made Honor Defense handguns.
These DeSantis holsters are available now, in options for all five of the new Honor Defense semi-automatic handguns.
"We are very honored to be partnering with DeSantis," said Gary Ramey, President of Honor Defense. "DeSantis began as a one-man operation 40 years ago by Gene DeSantis. Today, it's a global manufacturer of concealed carry holsters. The company is a real testament to the American entrepreneurial spirit and dedicated hand-craftsmanship. Their holsters are a great fit with our high quality Honor Defense pistols."
DeSantis offers a full line of IWB and OWB holsters, plus a wide range of accessories, using top-quality leather and hi-tech Kydex. Their leading-edge fitting technologies ensure that all firearms are safe, secure and ready at moment's notice. Visit DeSantis and their new Honor Defense holsters at www.desantisholster.com.
All Honor Defense pistols are built with high quality standards and feature:
Striker-fired design that can handle +P loads
Trigger has a wide face with a crisp 7lb pull
Short reset for quicker second shot and better control
Ambidextrous slide catch and magazine catch
Available with or without an ambidextrous manual safety lever
Modular system with stainless steel chassis
Custom texture design to provide better grip in all situations
Replaceable back straps to allow customization.
For more information, visit their Facebook page or website at www.honordefense.com.
About Honor Defense:
Honor Defense offers the finest American-made pistols-using only American partners and materials. Honor Defense pistols are built with more features and higher quality standards than other pistols in their size range. To create its pistols, Honor Defense secured input from a panel of professionals that have defended our nation or have extensive credentials in self-defense training.
For more information, please visit www.HonorDefense.com.