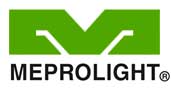 Farmingdale, NY -(AmmoLand.com)- Meprolight, manufacturer of the finest night sights and optics joined forces with two decorated U.S. Special Forces soldiers with years of experience in counter-terrorism units and instruction at the most elite special ops schools in the military to develop the tritium powered combat sight for handguns— the R4E.
The Optimized Duty Sight is currently available for all Glocks with versions for other pistol models expected to arrive in the near future. This tritium-powered duty sight is ideal for all lighting conditions. The R4E has improved first-round hit probability and can improve your overall shooting, here's how!
The Optimized Duty Sight features five key elements for sight alignment. The rear sight features two horizontal lines and one vertical line, which line up with the vertical line and tritium dot on the front sight. The additional lines of the ODS design create a reticle effect and cause the eye to naturally focus on the front sight, which is critical in defensive shooting situations. The design leads the eye to focus faster by tapping into your intuition.
In addition to intuitively sighting in, the ODS performs in daylight, low light or nighttime conditions without the use of batteries. The self-powered tritium sights are designed with reverse angles that allow shooters to "bite" into belts, steering wheels or any edge for racking the slide, if needed.
About The Mako Group:
The Mako Group is the exclusive U.S. distributor of the finest tactical equipment and weapon accessories that have been proven in combat. Designed for law enforcement agencies and militaries worldwide, Meprolight night sights and optics, FAB Defense weapon and personal defense accessories, E-Lander Magazines, Front Line Holsters and RTS Target Systems, are available at firearm retailers everywhere.
Connect with The Mako Group on Facebook, Twitter, and Instagram to stay up-to-date on the latest news and products.
For more information, www.TheMakoGroup.com.