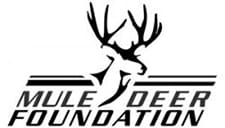 Salt Lake City, UT -(AmmoLand.com)- The U.S. House of Representatives passed legislation today that increases hunting access and promotes recreational hunting, fishing and shooting.
The Sportsmen's Heritage and Recreational Enhancement Act or SHARE Act (H.R. 2406) passed by a vote of 242-161. The following is a statement from MDF President/CEO, Miles Moretti about the SHARE Act.
"The Mule Deer Foundation has long supported congressional action on sportsmen's legislation and we greatly appreciate the bipartisan coalition of Representatives that supported the SHARE Act today. This bill will increase opportunities for hunting, fishing and shooting on public lands, something that is essential for anyone who hunts mule deer and black-tailed deer in the West. We look forward to working toward passage of the sportsmen's package currently under consideration in the Senate followed by bicameral collaboration to reconcile any differences so that a bipartisan sportsmen's act can finally be enacted this Congress."
About MDF:
The Mule Deer Foundation is the only conservation group in North America dedicated to restoring, improving and protecting mule deer, black-tailed deer and their habitat, with a focus on science and program efficiency. MDF is a strong voice for hunters in access, wildlife management and conservation policy issues. MDF acknowledges regulated hunting as a viable management component and is committed to recruitment and retention of youth into the shooting sports and conservation.
Get involved at www.muledeer.org or call 1-888-375-3337.