Limited seating, Life Member premium & exceptional prizes offered for 2016 fundraising banquet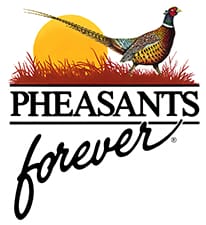 Fort Collins, CO -(AmmoLand.com)- The Northern Colorado Chapter of Pheasants Forever will host its 25th Anniversary Banquet on Saturday, March 5th, at The Ellis Ranch in Loveland.
Doors open at 5:00 p.m. with dinner and a special guest appearance from Pheasants Forever President and CEO, Howard Vincent, followed by silent and live auctions.
Since forming in 1991, the Northern Colorado Chapter of Pheasants Forever has taken special interest in Pheasants Forever's No Child Left Indoors initiative, part of a national movement aimed at getting youth unplugged from electronics and turned on to the outdoors, nature, and wildlife.
In the past three years alone, the chapter has impacted 807 youth and 532 adults through mentored hunts, shooting sports programs, field days, habitat projects, and other outdoor-oriented programs. Additionally, local volunteers have completed 66 habitat projects and have planted 13,946 trees impacting 58 acres for wildlife. The Northern Colorado Chapter of Pheasants Forever has spent a total of $245,466 in the local community to benefit youth education and wildlife habitat conservation efforts since their inception.
Highlights of the Northern Colorado Pheasants Forever Banquet:
Life Member Promotion: Become a life member of Pheasants Forever at the banquet and be immediately entered for a chance to win a Henry Big Boy .44 Magnum Rifle.
Early Bird Drawing: Register for the banquet by February 22nd and be entered into a drawing for $300 cash to use at the banquet..
Special Guests: Howard K. Vincent, Pheasants Forever's President and CEO / Les Johnson, Predator Quest Television / Chad LaChance, emcee and host of Fishful Thinker
For more information about the Northern Colorado Chapter of Pheasants Forever 25thAnniversary Banquet or to purchase tickets for the event, visit the banquet webpage or contact committee member Chad Hepp at (303) 709-4450 or email.
About Pheasants Forever:
Pheasants Forever, including its quail conservation division, Quail Forever, is the nation's largest nonprofit organization dedicated to upland habitat conservation. Pheasants Forever and Quail Forever have more than 140,000 members and 700 local chapters across the United States and Canada. Chapters are empowered to determine how 100 percent of their locally raised conservation funds are spent; the only national conservation organization that operates through this truly grassroots structure. Since creation in 1982, Pheasants Forever has spent $635 million on 502,000 habitat projects benefiting over 14 million acres nationwide.
Pheasants Forever is dedicated to the conservation of pheasants, quail and other wildlife through habitat improvements, public awareness, education and land management policies and programs.