Columbus, GA -(AmmoLand.com)- The first gun safe designed to fit under a bed, in a vehicle or stacked in a closet is outfitted in Realtree Xtra camo.
Proudly made in the U.S.A., the Realtree gun safe is outfitted with all of the features of a quality upright gun safe, but in a design that allows for easy storage. Realtree gun safes are perfect for the gun owners who values superior craftsmanship and security.
Weighing in at 185 pounds and available with electronic keypad and key entry, the safe offers maximum security and quality. Gun owners will sleep soundly knowing they have secure and convenient access to their valuables and weapons when they want them. This gun safe is built to be the last one you'll ever need to buy.
Features:
Interior illumination with two lights inside drawer
Two steel reinforced channels on top to assist with stacking/top loading
Heavy duty under mount drawer slides
Four 3″ x 3/4″ steel flat bar in back of safe for reinforcement
Dual-locking feature via a high-security internal locking latch which provides a fifth point of locking
Hardened drill plate
Motorized actuator to release the pins and electronic latch in back
Exterior dimensions – 50″ W x 20.25″ D x 6.75″ H
Interior dimensions –  46.5″ W x 12.25″ D x 3.25″ H
Standard Lock – SecuRam biometric/keypad code
Standard Lock – Electronic lock
Lock Upgrade – S & G biometric/keypad code
Lock Upgrade – Electronic lock
Heavy gauge one-piece steel construction
Silver lock
Heavy-gauge one-piece steel construction
Black felt lined with padding
1/2″ metal plate front with automatic spring drawer
High-security rotary key lock for manual opening
Plaque with unique serial number
Limited lifetime warranty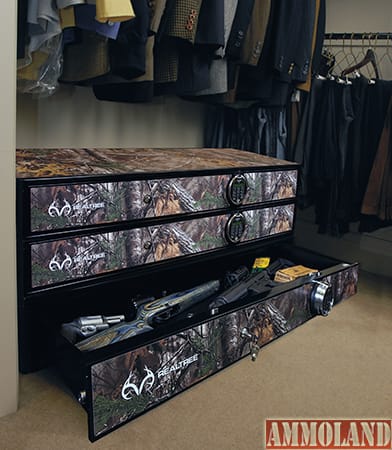 About Realtree:
Realtree is the world's leading camouflage designer, marketer and licensor with over 2,000 licensees utilizing the Realtree camouflage brand. Thousands of outdoor and lifestyle products are available in Realtree camouflage patterns. In addition, Realtree is committed to supporting individuals and groups that work to ensure our outdoor heritage, the conservation of natural places, and the wildlife that resides there.
For more information, visit: www.Realtree.com.