By Kevin Reese
SHOT Show, January 2016, after action report.

United States -(AmmoLand.com)- As sunlight flooded the southern Nevada landscape the rising tide of anxious visitors amassed, ready to tackle the National Shooting Sports Foundation's (NSSF) 2016 SHOT Show, the largest shooting, hunting and outdoor trade show on the planet.
At the start of the day, waves of people filtered through the show doors, scores of them already donning express passes. Some of the rabid mass headed straight to the large lower level hall while others funneled down the wide corridor to smaller law enforcement rooms, up escalators to the main hall and other tactical exhibitions, or even further up to the third floor NSSF Press Room to gather thoughts; the Press Room was supposed to be my first stop of the morning, but the growing buzz around a new setup of SHOT Show's "Next" mini-booths caught my attention… and held it for the next couple of hours.
SHOT's new Next program [featuring small tables of new and innovative gear] was staged perfectly just outside the home of the industry's most active communicators, there was no chance of slipping into the pressroom without getting sidetracked. What a strategy! While Next booths presented a wealth of inspiring products throughout opening day other amazing highlights truly rounded out the best of the best of the 2016 SHOT Show opener. Here are a handful of opening day highlights worth their weight in heavy consideration.
Crimson Trace LiNQ – Where No Personal Laser System Has Gone Before…
With the unveiling of LiNQ, the world's first wireless laser and light system, Crimson Trace continues to light the way for competitors with laser focused innovation.
With a little help from boot-on-the-ground operators, this mission-changing, daylight, low-light, no-light laser and light system blinds the bad guys, lights the way for the good guys and even helps hard-charging tactical hunters stop hogs, predators and other game animals in their tracks (check your local hunting regulations). While the Crimson Trace LiNQ Wireless Laser and Light System was designed specifically for AR platform rifles like AR-15, AR-10, M4, M16 and HK410 models, it also fits perfectly with other rifle systems utilizing a standard AR-style pistol grip like my own personal McRees Precision BR10 .308 Bolt Action Rifle.
The Crimson Trace LiNQ (Model # LNQ-100G) is comprised of a wireless grip and forward laser and light module. The LiNQ module features the brightest green laser permitted by law (Class 3R), blinding 300 lumen white light, independent controls and four operating modes: Laser Only, Light Only, Laser and Light, Laser and Strobe. The ergonomic, wireless, AR-style grip system features a front-facing Instinctive Activation button located just below the trigger guard (when installed), easily accessible mode button, master on/off switch and Sync Indicator Light designed to illuminate green when connected.
As a package, the LiNQ wireless laser light system connects via an individual signature to prevent cross-operation when used in close proximity to other systems while the unique closed wireless system works to increase the system's durability, reliability and overall performance in less than desirable conditions. Sure, it's perfect for military and law enforcement operators but this ol' Marine Corps veteran has other things on his mind… like some nighttime hog and predator hunting!
FLIR Heats Up The Night With The Scout III and Scout TK
Speaking of nighttime hog and predator hunting, FLIR has built its reputation as the most trusted thermal imaging optics manufacturer on the planet with gritty, real world reliability, world-class quality, irrefutable performance, including long-range, and industry-leading resolution.
The truth is, troops in every corner of the globe have trusted FLIR's thermal imaging products with their lives so it also makes sense to trust the brand with our recreational adventures. I spent quality hog hunting time with FLIR thermal imaging equipment not long ago with great results. While FLIR's handheld units were great for nighttime "glassing" and spot-and-stalk strategies, their rifle mounted thermal imaging products make your shot count even in exceedingly low light, including complete darkness.
On opening day of the 2016 SHOT Show, the FLIR booth was bustling, I had to weave, bob and even nudge my way a little to the counter where FLIR representative and thermal imaging guru, Angelo Brewer greeted me with the Scout III, FLIR's brand new, beefed up version of the Scout series of handheld thermal imaging optics, and Scout TK, an entry level version that even has the ability to snap still images and capture video footage to share with friends.
FLIR offers the Scout III in 240, 320 and 640 models. Average pricing for the models, respectively, are $1,999 for the 240, $2,499 for the 320 and $3,499 for the 640. All three models boast a robust, crisp 640×480 LED screen, durable IP67 waterproof-rated rubber coating designed to handle your rugged nighttime adventures and sensors perfectly capable of detecting heat signatures at extended distances. Video detection palettes of Black-Hot, White-Hot, InstAlert and Graded Fire. The 240 features a 240×180 sensor capable of picking up heat from a man-sized target from up to 382 yards away. The 320 includes a 336×256 sensor perfect for detecting man-size heat signatures up to 601 yards away. The best of the bunch is the 640. The 640 includes a jaw-dropping 640×512 sensor designed to reach all the way out 1,247 yards away! While the 240 does not include any video capabilities, the 320 and 640 both feature NTSC or PAL video out. To sweeten the deal both the 320 and 640 include zoom, the 320 at 2x and the 640 at both 2x and 4x while the internal, rechargeable Li-Ion battery keeps you on the go with worry free thermal imaging for up to 5 hours.
The Scout TK features the same crisp 640×480 LED screen, a 160×120 VOx microbolometer detector to capture heat signatures up to 100 yards away. Like the Scout III, a rechargeable Li-Ion battery keeps the adventure going for up to 5 hours but includes even more video detection palettes: Black Hot, White Hot, InstAlert, Rainbow, Iron, Lava, Arctic and Graded Fire. The pocket sized, 6 oz., handheld thermal imaging camera includes a USB cable to transfer footage and still images, lens cover and a neck lanyard. While the Scout TK may heat up the night, it doesn't burn up your bank account. The Scout TK comes in with a modest MSRP of just $599 – almost too good to be true… but true it is!
We found the best FLIR product prices online at Amazon: http://tiny.cc/hvi38x  or for more information, visit: www.FLIR.com.
NightForce Welcomes The World To World-Class Optics With The SHV 4-14×50 F1
By early afternoon on opening day I had been drawn to the NightForce booth like a moth to a flame.
If banging steel at 1000 yards (or further) turns your rotors NightForce Optics rank solidly in the elite class. Founded in 1992, NightForce has built an irrefutable reputation based on rugged, reliable, repeatable precision more than capable of holding its own in a room full of the most elite optics on the planet. More importantly, for 2016, NightForce just welcomed the world to world-class optics. Now, virtually any passionate shooter can afford an elite-class rifle scope true to Nightforce's reputation, although some of us might have to still pinch a few pennies.
NightForce didn't pull any punches with the SHV 4-14×50 F1, delivering a wealth of key features critically important to serious precision shooters and hunters. With an MSRP of just $1290, one might expect just another higher-end second focal plane optic full of great features for shooters keeping targets within modest distances; however, chasing down the long shots and grouping well, especially competitively, truly calls for a first focal plane (FFP). Generally speaking, first FFP scopes get pricy quickly, especially when you add other features like NightForce's ZeroSet, exposed turrets, 30mm tube .1 Mil-Radian reticle, 14x magnification and the type of elite performance you've come to expect from top-tier PRS-endorsed optics. Precision optics of NightForce's quality, inclusive of these types of features, easily run $2000 – $3000 and much higher.
Let's be honest, in a world where premium optics of this caliber generally run in the thousands, the SHV 4-15×50 F1 riflescope fills a much needed gap where world-class hardware meets hard working folks on a budget who truly want the best bang for their buck.
10X Apparel Warmed Up Industry Day on the Range
Not necessarily in keeping with opening day highlights, one company certainly shined enough during Industry Day at the Range to be included here.
10X was on hand to warm up the wave of industry professionals filling the shooting lanes at the Boulder Rifle and Pistol Club by passing out baselayer ¼-zip pullovers that could easily pass as midlayer garments.
Not only was I one of the fortunate recipients, it came in quite handy, not just until the morning chill lifted at the range, but during a few nights of touristy browsing along the Vegas strip as well.
During a visit to the 10X booth on opening day, I learned about the apparel line's new Scentrex Scent Management System. Borne of the continuing drive to beat the prey we hunt by a nose, Scentrex employs two highly effective resources to capture and suppress 99% of odor causing bacteria. First, Agion Active XL, a silver-based antimicrobial, works to keep bacteria from forming. Second, an additional layer of scent control blocks and suppresses remaining odor-causing bacteria. While scent control is a critical part of an up-close-and-personal hunting strategy, it hasn't always been comfortable. Second to eliminating stink, 10X focuses heavily on designing hunting and outdoor apparel comfortable enough to spend every waking moment in, and they're very good at what they do. 10X Scentrex clothing is exceedingly comfortable, breathable and designed to suit our active hunting lifestyle with optimum range of motion. Scentrex also self-regenerates between launderings and is guaranteed effective for up to 50 wash cycles. More importantly, Scentrex is Bluesign approved. This respected rating ensures hunters that the clothes they wear are non-toxic, sustainable and safe for the outdoors we know and love.
We found the best price on 10X Gear online at Amazon: http://tiny.cc/9hj38x or for or more information, visit: www.10xGear.com.
Weatherby Breathes New Life Into An Old Dream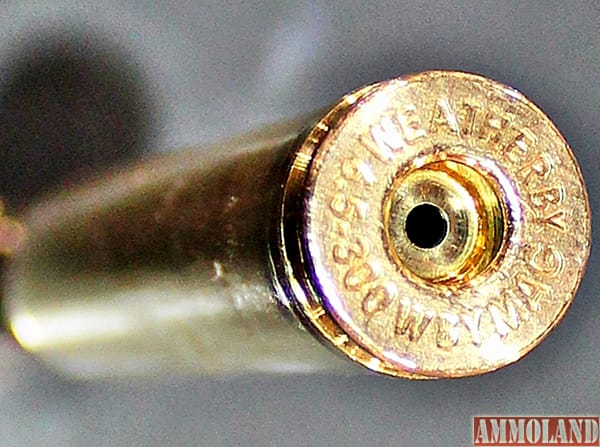 Weatherby opened the 2016 SHOT Show with a bang! Even as a kid I knew "one of these rifles is not like the others".
I can still hear my father posturing with this simple statement every time he pulled his .257 Weatherby Magnum from the gun case. As a result, I've always held Weatherby rifles in high regard. During the first day of SHOT Show I made a point to stop by the Weatherby booth to soak in new products. What I found had me giddy, like a kid in a candy store. Sure, there were some amazing rifles, a couple you may read about in the days to come, however, right now I'm talking about a new Weatherby caliber, the 6.5-300. Truth be told, this cartridge is much longer in the tooth than one might expect. Bringing this caliber to life truly was to breathe new life into an old dream. That dream, the idea for that particular cartridge began over a half-century ago in the early 50s! As a testament to Roy Weatherby's dream that just wouldn't die, his original 6.5-300 Weatherby Magnum rifle sat underneath a large cartridge promotional sign.
Does it perform? Hell yes! The 6.5-300 is available with 127-gr. Barnes LRX, 130-gr. Scirocco and 140-gr. A-Frame bullets, with ballistic coefficients of 0.485, 0.571 and 0.401 respectively. Muzzle velocities range from 3395 fps. to 3531 fps. and still scream at 500 yards with velocities of 2176 fps (140-gr), 2557 fps (130-gr) and 2523 fps (127-gr). The cartridge also packs quite a punch with energy at 500 yards still ranging from 1472 ft-lbs. (140-gr), 1887 ft-lbs. (130-gr) and 1794 ft-lbs. (127-gr). With numbers like those it's no surprise that bullet drop remains quite respectable at 500 yard: 23.3 in. at 140-gr, 19-in. at 130-gr and 18.99-in. at 127-gr. Of course, if those bullets don't drive your tacks to a happy place the Weatherby 6.5-300 Magnum is also available with Hornady, Swift and Nosler. Weatherby rifles chambered for the new cartridge include Mark V and Vanguard models.
Who says you should give up on your dreams? I'm anxious to see what the 6.5-300 does when I hammer steel at 1000 yards. More on that later? Let's hope so.
Big Thanks to the National Shooting Sports Foundation (NSSF)
For communicators, a show of this magnitude demands some sense of organization and the NSSF provides one of the most robust work and networking environments available to industry press – more than a place to work, it routinely becomes a place of peace – the one refuge of sorts in which media members recapture some semblance of sanity when the wave of new products and vendors to visit seems overwhelming. Thank you beyond measure for catering to us haggard outdoor writers such as you do. We couldn't, or at least shouldn't, ask for any more than that first-rate hospitality we receive each year at the greatest shooting, hunting and outdoor trade show on the planet.
Please join and support the NSSF. For more information, visit: www.NSSF.org.
About Kevin Reese:
Kevin is an award-winning outdoor writer, photographer, videographer, speaker, host of Global Outfitters TV Show's GO Tips and a Marine Corps veteran. He owns and administers www.mainbeammedia.com and Main Beam Blog at blog.mainbeammedia.com. The Main Beam Blog offers great articles, press releases, outdoor industry news and reviews.