By Mike Searson
SIG SAUER MCX Rifle Review and field test.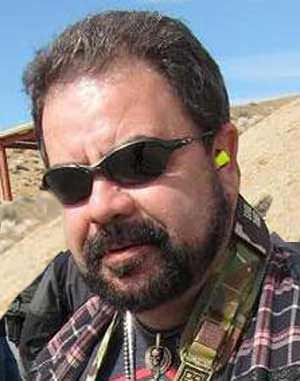 USA –  -(Ammoland.com)- We were recently offered a rifle to test from SIG SAUER: The SIG SAUER MCX Rifle.
At first glance it looks like yet another AR clone, but once you get one of these in your hands you will find a lot more than meets the eye.
The hand guard is built in the popular key mod design that rides a full 12 inches of the barrel and come off via a convenient front takedown pin to give quick access for barrel changes or gas adjustment.
It runs on a short stroke gas piston system contained within the upper receiver, very reminiscent of the earlier Armalite AR-180 with dual springs attached to the bolt. This gives the shooter better options with regard to butt stocks.
Our rifle, in 300 Blackout, shipped with a side folding stock similar to the one found on a Para FAL rifle with regard to folding. There is a QD sling attachment which runs completely through the base of the stock that allows for easy ambidextrous sling mounting.
Speaking of which, the controls are about 90% ambidextrous: safety selector, magazine release and charging handle. Everything except for the bolt catch can be operated with either hand.
Running a 300 Blackout caliber rifle is fun, but the round was really meant to take advantage of the round's subsonic potential.
We called our good friends at Silencershop.com for input into an ideal can and mount for the MCX.
While they rightly pointed out that you can get by with running a 9mm pistol can on a 300 for subsonic use, it is probably not a good idea because no matter how careful you are, a supersonic round will make its way into your magazine, into the can and will most likely lead to catastrophe.
We had an AAC 762-SD on hand, but in keeping with the spirit of the review and trying to use only SIG SAUER products, we opted for a SIG SAUER SRD 338 TI QD: the Cadillac of silencers.
Surprisingly, with all their work in fighting for our NFA rights and the implementation of ATF Rule 41P and the first swath of panic buying, they got it out to us in time to complete the review.
SIG SAUER MCX Rifle – The Good
The SIG SAUER MCX rifle is truly the most modular black rifle ever designed by a firearms company and may unseat the venerable AR-15 as the most user-friendly rifle platform developed thus far.
The rifle can quickly change calibers from 5.56 NATO to 300 Blackout involving only a barrel change. Switching to 7.62 X 39 involves installing a new barrel and a new bolt face. SIG states that this can be performed by a user in the field.
Despite its light weight, the SIG SAUER MCX Rifle is a dream to shoot and extremely controllable on full auto fire. While this version was semiautomatic, only; we had the opportunity to rock and roll with a full-auto MCX in 300 Blackout back in August 2015 when our longtime friend and SIG's go-to NFA guy, John Hollister paid us a visit.
With the happy switch in full effect, we simply did not want to put the SIG SAUER MCX rifle down. Shooting one-handed with stock folded and shooting arm completely straight was a lot of fun, too.
We experimented with a variety of 300 Blackout ammunition. From heavy subsonic loads to supersonic rounds, both with and without the silencer attached; we experienced no malfunctions of any kind.
SIG SAUER MCX Rifle – The Bad
We were not impressed with the SIG SAUER MCX trigger. It wasn't horrible, just, not as good as we would like for the price point. Thankfully there are aftermarket triggers that can be had, but as we always maintain that the trigger is the soul of any gun, we wished that SIG's designers were listening to a little more James Brown when they developed this component.
SIG SAUER MCX Rifle – The Reality
When gun guys get to talking and ask "AK or AR?", short of an actual fist fight there are two clearly divided camps with a smattering of shooters who proclaim to "Get Both". It may not have the post-World War 2 look of a COMBLOC rifle, but the improved functionality of a true piston system without a buffer tube is there coupled with the superior ergonomics, modularity and accuracy of a next-gen AR style rifle.
Think of it as "all of the good, with none of the bad" inherent in both of those platforms with an easy option to change calibers and barrel lengths.
As for our choice of silencer, normally a 338 Lapua can would be considered overkill for even a supersonic 300 Blackout shoot. The amazing light weight of the SIG SAUER SRD 338 TI QD felt no heavier at 16 ounces than a 308 suppressor and its performance kept everything completely hearing safe.
In all reality the silencer was overkill. However Sig Sauer's other silencers in 7.62 made from the same materials should prove to be better options for the MCX due to their shorter length and lighter weight.
SIG SAUER MCX Rifle Specifications:
Caliber: 300 AAC Blackout
Barrel: 16″ cold hammer forged (9" pistol/sbr available)
Weight: 6 pounds
MSRP: $1,866
SIG SAUER MCX Rifle Videos:
About Mike Searson
Mike Searson's career as a shooter began as a Marine Rifleman at age 17. He has worked in the firearms industry his entire adult life as a Gunsmith, Ballistician, Consultant, Salesman, Author and was first certified to teach firearms safety in 1989.
Mike has written over 2000 articles for a number of magazines, websites and newsletters including Blade, RECOIL, OFF-GRID, Tactical Officer, SWAT, Tactical World, Gun Digest, Examiner.com and the US Concealed Carry Association as well as AmmoLand Shooting Sports News.
Home page: www.mikesearson.com
FB: www.facebook.com/mike.searson
TWITTER: www.twitter.com/mikesearson