By Kevin Reese
This review is part three(3) of a five(5) part series of new guns or interesting guns for 2016. Click the Next button at the bottom to read more. : Smith & Wesson SW22 Victory 22LR Pistol Review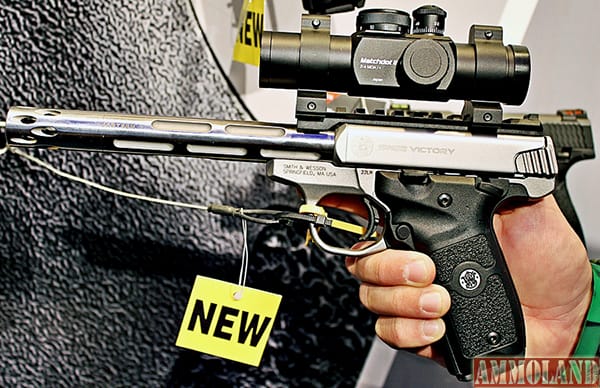 USA –  -(Ammoland.com)- All or nothing, high stakes competition handgun shooting,,, or just plinking with the family on a Saturday morning?
The new 2016 Smith & Wesson SW22 Victory .22LR does both with the kind of exceptionally reliable, repeatable consistency that commands respect! Well, that and it looks ultra-cool, too!
Unfortunately, looks aren't everything so it's good to know the SW22 most certainly does shoot as good as it looks!
Smith & Wesson SW22 Victory 22LR Pistol
What else do I like about the Smith & Wesson SW22 Victory 22LR Pistol ? I am a fan of diversity and the SW22 delivers in true modular form. Not only do the slide and other critical components breakdown quickly for efficient on-the-fly cleaning and maintenance, the sights, barrel, grip and other accoutrements are easily replaced in mere seconds! As an example, while the SW22 comes standard with a 5.5", 1:15 twist, stainless steel bull barrel, the model in the image sports a beautifully crafted, precision machined stainless steel Volquartsen I-Fluted barrel that can be changed out in under a minute. Even the rear sight is removable with a single screw. Want optics? Simply change out the rear sight and install the included picatinny rail!
The standard non-slip textured grips also are easily replaceable; however, you may like the feel and adjustability the standard grips include, like textured front and backstraps and removable grip sides for a slimmer feel, perfect for smaller hands.
While the Smith & Wesson SW22 Victory 22LR Pistol looks like it might be the .22LR pistol you've been looking for, it offers much, much more than meets the eye. And, with an MSRP of just $409 for the base model, $429 for the threaded barrel model and $459 for the Kryptek Highlander camo model, mark my words, "You're going to start seeing a lot of SW22s on the range as well as at your favorite .22 pistol competitions!"

About Kevin Reese:
Kevin is an award-winning outdoor writer, photographer, videographer, speaker, host of Global Outfitters TV Show's GO Tips and a Marine Corps veteran. He owns and administers www.mainbeammedia.com and Main Beam Blog at blog.mainbeammedia.com. The Main Beam Blog offers great articles, press releases, outdoor industry news and reviews.