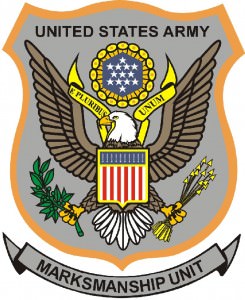 Fort Benning, GA -(AmmoLand.com)- Future Soldiers and members of the general public now can address questions about joining the Army to Soldiers assigned to the U.S. Army Marksmanship Unit (USAMU) through the Ask a Soldier discussion board at GoArmy.com.
GoArmy.com has long used the forum as a means of providing information about Army careers using a question and answer format.
"The U.S. Army Marksmanship Unit has accomplished, world-class marksmen in a wide variety of shooting sports," said Lt. Col. Bret Tecklenburg, USAMU commander. "Adding top marksmen from the USAMU, including Soldiers who will represent the U.S. Army and the United States at the 2016 Olympics, provides an added dimension to the forum. This discussion forum allows us to use our existing skills and expertise to help connect our Army with the people of our great nation."
Staff Sgt. Lawrence Cleveland, a Service Pistol Team member, said almost everyone he and other USAMU Soldiers meet ask questions about competitions, the unit, how to be a better marksman and more.
"This is a chance for us to go on a discussion forum to interact with people who might not get to talk to us in person," Cleveland said. "On social media, especially Facebook, we already have that in a sense, because people leave comments and we answer, but a true discussion forum allows us to discuss specific information about each competition and what we do. Army Marksmanship Unit Soldiers can now address specific questions about our unit, including how to join the unit."
Topics also include a variety of marksmanship subjects, such as pistol and rifle fundamentals, types of shooting disciplines, hand loading and ammunition, courses of fire for various competitions, engaging moving targets, safety, reading the wind and many others.
Cleveland said anyone can view the information and discussion, but those commenting must register and sign in.
Besides the discussion board, the USAMU reference section on GoArmy.com offers specific content about shooting pistols, rifles and shotguns, and includes marksmanship videos. Other USAMU sections are Frequently Asked Questions (FAQ) and USAMU history.
To join in the discussion, visit https://forums.goarmy.com/community/army_marksmanship_unit.
About USAMU:
The U.S. Army Marksmanship Unit (AMU) wins national and international shooting competitions and advances small arms lethality to demonstrate Army marksmanship capability and enhance marksmanship effectiveness in combat.
For more information on the U.S. Army Marksmanship Unit, contact the Public Affairs Office at (706) 545-5436, [email protected] or www.USAMU.com.