Spoil Your Campsite with Coleman's New Products for 2016
Port Orchard, WA -(AmmoLand.com)- TENTS, SLEEPING BAGS, LANTERNS, COTS & MORE: This year, Coleman is taking everything one step further.
If it was rugged last year, it's extra-rugged this year; if it was comfy last year, it's ultra-plush this year; if it was tech-y last year, it's space-age this year. As you plan spring and summer camping, family fun and tailgating content, please keep Coleman in mind. Don't see what you need below?
Hit us up! We have everything from accessories (rugged mallets and axes, cooler lights) to larger items (grills, chairs). Let us outfit your editorial!
Coleman Carlsbad 6P Fast Pitch Dome Tent with Screen Room, $279.99
Grab more zzz's with Coleman's Carlsbad Tent, featuring the brands new Dark Room technology, which blocks 99.7% of sunlight. A special coating on the rainfly and windows helps block light as does the black tent fabric. Don't let the sun keep your kids up and no more waking with the sun! Bonus: a screened in front room for bug-free lounging. Also available in a 4-person version.
Coleman Northern Nova Propane Lantern, $149.99
The brightest propane lantern Coleman has ever produced, the Nova shines at 3000 Lumens, with adjustable brightness, making it the perfect outdoor lamp. The shatter-resistant globe is surrounded by metal for added protection, and the legs fold up for compact storage. No matches required thanks to InstaStart technology.
Coleman Comfort Cloud 40 Sleeping Bag, $79
Add an extra layer of comfort between you and your sleeping pad with Coleman's new Comfort Cloud 40 Sleeping Bag. The fleecy synthetic sleeping bag has a layer of memory foam for luxurious comfort and added insulation. Meant for 30- to 50-degree nights, this rectangular bag is roomy in the legs and supremely comfortable.
Coleman Conquer 300L Li-Ion LED Headlamp, $54.99
No touching. All it takes is a quick swipe of the hand to control the Conquer's four settings (high spot, low spot, high flood and low flood). The Conquer headlamp also features Coleman's BatteryLock technology—pull on the lamp to disengage the batteries and prevent ghost drain. Now your headlamp will be ready to go when you are.
Coleman Big-N-Tall Cot, $109.99
Tall folks, fret no more, the Big-N-Tall Cot is sized to keep people comfy who are up to 6'8" With a weight capacity of 600 pounds, a steel frame, and a cool topo map graphic, this is going in our glamping kit. The Big-N-Tall 30 Sleeping Bag and the fully-cushioned Big-N-Tall Quad Chair, with 600-pound capacity, round out the collection.
Coleman Rugged Accessories
Meet the newest core accessory assortment — the Rugged Essentials. After listening to feedback from numerous customers, Coleman's revamped the way they are building accessories.
Think higher grade materials, better ease of use, enhanced comfort, and heavier duty. There are nearly 20 items in the collection.
Here's the Rugged Axe ($19.99), Rugged Folding Shovel ($24.99), Rugged Mallet with Tent Stake Remover ($19.99) and Rugged Machete ($19.99).
Coleman Rugged A/T 55 Cooler, $89.99
Classic Coleman cooler performance but with 8″ oversize wheels for easy transport over rugged terrain. Walk-in campsites are no longer an obstacle.
Coleman ComfortSmart InterLock Breeze Sling Chair, $59.99
Set up this sling chair on the sand and feel the cool breeze across your back all day. The mostly mesh ComfortSmart Interlock Breeze chair is designed with bungee loops laced down the chair so that it conforms to your body, but also offers incredible support. Bonus: a swiveling cup holder will keep your beverage at-hand.
Coleman All Night 13 x 13 Instant Lighted Eaved Shelter, $269.99
Coleman's new All Night lighted shelters have built-in LED lighting systems that cast 450 lumens of light for up to 13.5 hours. Power the shelter from a USB power bank or with batteries.
Mountain View 12 x 12 Screendome Shelter, $199.99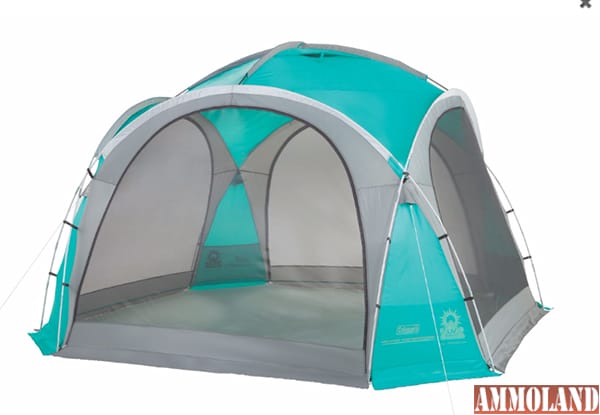 Think versatile. Two moveable shade walls allow you to customize your sun protection, removable screen walls fend off bugs, and stability reins supreme against the wind. It's 43% lighter than a comparable Coleman Instant Sun Shelter and over 66% smaller when packed up.
About Hayter Comm:
Flat out, our job is to enhance exposure to drive sales and affect opinions regarding our clients' products, services and initiatives through any and all media. It's equally important for our team to simplify the lives of the marketing departments, in-house PR teams and marketing partners who depend on us to manage their news and relationships with journalists in an efficient, low-maintenance and professional manner. Maintaining deep relationships with top-tier clients and media contacts is what we do.
For more information, visit: www.hayterpr.com.
About Coleman:
As an international leader in the innovation and marketing of outdoor products, The Coleman Company, Inc. helps people have fun and make memories by providing the gear integral to their favorite outdoor experiences. The company's products include its legendary lanterns and stoves, as well as coolers, tents, sleeping bags, airbeds, backpacks, furniture, and grills under the Coleman brand. Additionally, the company provides flotation devices, towables, rainwear, waders, hunting and fishing gear as well as safety and survival equipment under its Stearns, Sevylor, Sospenders, Hodgman, Mad Dog Gear, Helium and Aerobed brands. Founded in 1900 and based in Wichita, Kan., Coleman is a wholly owned subsidiary of Jarden Corporation.
For more information, visit: www.coleman.com.