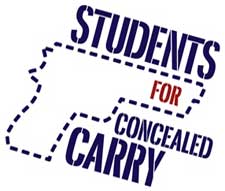 Austin, TX -(AmmoLand.com)- Following the announcement that UT-Austin President Gregory Fenves will, in accordance with Texas Senate Bill 11, allow the licensed concealed carry of handguns in most university classrooms, numerous pundits and media outlets are once again calling for Texas legislators to allow public colleges to opt out of the state's new "campus carry" law.
In a February 23 editorial, the Austin American-Statesman argues, "Public university officials should have the same authority as private campuses to opt out of campus carry."
This raises an obvious question: In what other areas does the Statesman's editorial board think public colleges should have the same authority as private colleges?
Should public university officials be allowed to require church attendance by students or to prohibit same-sex dating relationships between students? Should they be allowed to limit student speech to only that which aligns with a certain religion or ideology? What if such restrictions are what a majority of students, faculty, and staff really, really want? Shouldn't the majority opinion on campus trump an unpopular law?
The reality is that private schools have always operated under vastly different rules from their public counterparts, and that dichotomy is why Texas' new campus carry law establishes one standard for public colleges and another for private colleges. The same private universities that can dictate which sociopolitical causes students are allowed to support and which movies students are allowed to see can prohibit licensed concealed carry on campus. However, the same state universities that must honor freedom of speech, freedom of religion, etc., must also honor a state-issued license to carry a handgun.
SB 11 passed through the Texas Legislature by a wide margin. And contrary to the claims of anti-campus carry activists, those lawmakers were acting in accordance with the wishes of their constituents—two 2015 polls (the only impartial polls on the subject) conducted as a joint effort of the Texas Tribune and the University of Texas at Austin found more Texans in support of campus carry than opposed to it. Whether campus carry has broad support on a particular campus is not the legislature's concern.
Antonia Okafor, Southwest regional director for Students for Concealed Carry, commented, "Campus carry hasn't led to the downfall of the University of Utah or the University of Colorado, and it won't be the downfall of the University of Texas. I have little sympathy for the argument that campus carry is an unpopular law, given that just fifty years ago, the law allowing someone like me to attend the University of Texas was itself an unpopular law. There is a reason we don't pass laws the same way we vote for the next American Idol."
About Students for Concealed Carry:
Students for Concealed Carry (SCC) is a national, non-partisan, grassroots organization comprising college students, faculty, staff, and concerned citizens who believe that holders of state-issued concealed handgun licenses should be allowed the same measure of personal protection on college campuses that current laws afford them virtually everywhere else. SCC is not affiliated with the NRA or any other organization. For more information on the debate over campus carry in Texas, visit WhyCampusCarry.com.
For more information on SCC, visit ConcealedCampus.org or Facebook.com/ConcealedCampus.