Sacramento, CA -(AmmoLand.com)- Young waterfowl hunters enjoyed great success and created lasting memories throughout California over the Youth Waterfowl Hunting Days on Feb. 6-7.
Every year, several thousand youths statewide participate in this opportunity. In accordance with federal regulations, the two hunting days are held outside of the general waterfowl season for licensed hunters 15 years of age and younger. Youth hunters may be accompanied by a non-hunting adult, providing great opportunities for novices to learn and experience waterfowl hunting with a mentor.
Overall, young hunters averaged nearly three birds each on Saturday. Most of the ducks taken were either green-winged teal or northern pintail.
Rocklin resident Jeff Leonard took his 9- and 12-year-old nephews to Twitchell Island on their first duck hunt. He chose to put in for a reservation at Twitchell because the California Department of Fish and Wildlife (CDFW) offers sunken blinds at this site.
"It was an adventure all of us will always remember," said Leonard. "We only got one duck but the boys missed a bunch and had a great time."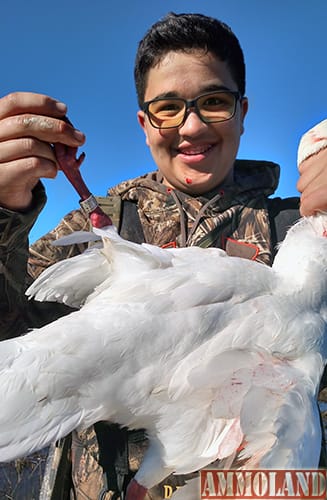 Thirteen-year-old Ben Bateman of Sacramento drew the number one reservation at Sacramento National Wildlife Refuge on Feb. 7. Mentored by his uncle Ken Boquist, Ben harvested a limit of snow geese and a limit of ducks including two banded birds — a snow goose and a gadwall duck.
"This was the best hunt ever," said Ben. "We put out over 200 decoys and the ducks and geese came right in."
All of the CDFW lands managed for waterfowl hunting were open for Youth Waterfowl Hunting Days. These areas range from massive, managed marshlands like Gray Lodge Wildlife Area (9,200 acres) and Mendota Wildlife Area (11,000 acres) to smaller areas like Twitchell Island.
There were plenty of outstanding opportunities for the young hunters. On Saturday, 55 junior hunters at Gray Lodge Wildlife Area harvested 184 ducks and 31 geese; at Delevan National Wildlife Refuge, 50 junior hunters harvested 170 ducks and 67 geese; at Sacramento Wildlife Refuge, 69 junior hunters harvested 200 ducks and 173 geese; and at Mendota Wildlife Area, 42 junior hunters harvested 140 ducks and 16 geese.
State wildlife areas and federal refuges play a critical role in conserving waterfowl and their habitats while benefiting a wide range of native plants and wildlife.
All of the young hunters successfully completed a hunter education course to obtain a Junior Hunting License to participate in the hunt.
About the California Department of Fish and Wildlife (CDFW):
The California Department of Fish and Wildlife (CDFW) manages California's diverse fish, wildlife and plant resources, and the habitats upon which they depend.
For more information, visit: www.wildlife.ca.gov.