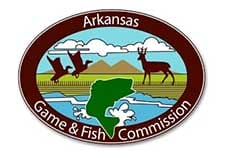 Little Rock, AR -(AmmoLand.com)- Wildlife officers from throughout Arkansas were recognized for service beyond the call of duty at a special awards ceremony March 15 at the Crowne Plaza Hotel in Little Rock.
Col. Todd Callaway, chief of the AGFC Enforcement Division, said all enforcement officers put on their uniform each day with the understanding of the job's risks, and that alone should be commended.
"I believe that each and every officer at the AGFC would make the same sort of sacrifices and efforts of the men recognized today if they had been involved in the situation of the men receiving awards," Callaway said. "But these men are proof of that belief."
Letters of Commendation were given for performance above and beyond normal duty requirements and demonstration of courage, resourcefulness and a high regard for others' safety.
The following officers received Letters of Commendation:
Capt. Brad Young of Pine Bluff
Wildlife Officer Allen Edwards of Monticello
Wildlife Officer Clay Hungate of Eureka Springs
Wildlife Officer Scott Basham of Fort Smith
Governor's Lifesaving Awards were given to the following officers for actions which were directly responsible for the preservation of another person's life:
Lt. Jerry Smith of Calico Rock
National Park Ranger Justin Gibbs of St. Joe
Cpl. Robbie Stout of Little Rock
Cpl. Jeremy Bishop of Mayflower
Cpl. Keith Cardin of Monticello
The following officers received The Warden's Cross for demonstrating extraordinary courage that set them apart from other employees:
Cpl. Doug Small of Mountain Home
Lt. Ben Sisk of Fort Smith
Wildlife Officer Billy Williams of Fort Smith
In addition to these awards, Capt. Clyde Shepard and Col. Todd Callaway were both recognized with the AGFC Enforcement Division Meritorious Service Award for their years of dedication to the AGFC and the sportsmen and sportswomen of Arkansas.
Capt. Shepard, who recently passed away, had devoted 44 years of service to the sportsmen and citizens of Arkansas. He served in many capacities throughout his distinguished career, including work on many special committees and special operations.
Col. Callaway, who will be retiring in June, was recognized for 31 years of service and commitment to Arkansas and its natural resources. Among many achievements during his career with the AGFC, Callaway received the Governor's Distinguished Service Medal from Governor Jim Guy Tucker in 1995.
He also was named Arkansas Wildlife Officer of the Year in 1997.
About Arkansas Game and Fish Commission:
The Arkansas Game and Fish Commission plays an important role in keeping The Natural State true to its name. During the last 100 years, the agency has overseen the protection, conservation and preservation of various species of fish and wildlife in Arkansas. This is done through habitat management, fish stocking, hunting and fishing regulations, and a host of other programs.
For more information, visit www.agfc.com.