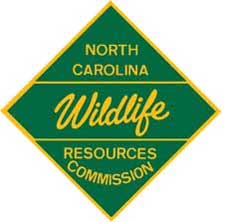 North Carolina  -(Ammoland.com)- A lifelike painting of an Atlantic brant, by Florida artist Garrett Jacobs, is the 2016 North Carolina Waterfowl Conservation Stamp and Print.
The acrylic painting was unveiled on Feb. 4 at the 21st Annual East Carolina Wildlife Arts Festival and N.C. Decoy Carving Championships, during a sponsors' reception at the North Carolina Estuarium in downtown Washington.
The artwork of a single Atlantic brant standing in cordgrass with the Cape Hatteras lighthouse shrouded in fog in the background will be used as the artwork on the 2016 N.C. Waterfowl Stamp and Print. Signed and numbered regular edition prints with mint stamps will be available July 1 from the N.C. Wildlife Resources Commission's N.C. Wild Store for $145.
Jacobs was one of 31 wildlife artists from 18 states to submit entries in this year's competition, which began in 2008 as a partnership between the Commission and the East Carolina Wildfowl Guild, and is now managed by the Washington Tourism Development Authority.
Although Jacobs, who lives in Orlando, has been painting wildlife since the 1980s, this is the first time he has won a duck stamp competition — a feat that had him shaking his head in disbelief when he received the call from Tourism Development Director Lynn Wingate that he had won.
"When I look back to that day, what I recall after my cardiac arrest, was a very gentle voice on the other end of my phone, repeating that I was just selected for the conservation competition," Jacobs said jokingly. "I thought briefly it was my mother joking with me, for Mrs. Wingate sounds like my mother."

"I said 'Stop joking mom' and Lynn assured me that this was no joke and not my mother. It's been a wonderful whirlwind."
Each year, the Commission specifies five eligible species and related habitats for the competition. This year, artists could submit paintings of tundra swans, blue-winged teal, Atlantic brant, gadwalls or bufflehead.
In addition to Jacobs' painting, the other top entries selected by a panel of judges were unveiled during the reception:
2nd place – Gerald Putt from Boiling Springs, Pa.
3rd place – Cory McLaughlin from Wells, Texas.
4th place – Guy Crittenden from Richmond, Va.
5th place – John Brennan from Lutz, Fla.
Proceeds from sales of the print and stamp support the Wildlife Resources Commission's Waterfowl Fund, which generates revenue for the conservation of waterfowl habitat in North Carolina.
For more information about the agency, visit www.ncwildlife.org. For more information about the Washington Tourism Development Authority's website.
About the North Carolina Wildlife Resources Commission:
The mission of the NC Wildlife Resources Commission is to conserve North Carolina's wildlife resources and their habitats and provide programs and opportunities that allow hunters, anglers, boaters and other outdoor enthusiasts to enjoy wildlife-associated recreation.
For more information, visit: www.ncwildlife.org.