Comp-Tac Victory Gear Features Holster Fits to Accommodate Streamlight TLR-6® Products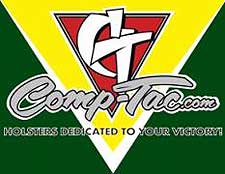 Houston, TX – Comp-Tac Victory Gear, a leading manufacturer of quality concealed carry holsters and firearms accessories, have expanded their holster fits to accommodate pistols outfitted with the popular Streamlight TLR-6®.
The TLR-6® is a subcompact gun-mounted tactical light with an integrated red aiming laser, designed to securely attach to the trigger guard of over 18 subcompact handguns from some of the most popular brands (GLOCK®, Smith & Wesson® M&P Shield™, KAHR® ARMS, SIG SAUER® and Kimber®).
Recognizing the need for a holster option for the variety of handguns the TLR-6® can be mounted to, Comp-Tac has created new make and model options on some of their holsters; the International with Light, Infidel Max with Light, and MERC.
International with Light
The International with Light is a popular Outside the Waistband, all-Kydex holster that comes with a belt mount, paddle mount and drop offset attachment. Designed to be worn at 3:00, this holster is perfect for competition shooting, concealed carry or general use.
MERC
One of Comp-Tac's Kydex/Leather Hybrid holsters, the MERC, is an Inside the Waistband Concealed Carry Holster. The leather backing offers the ultimate in comfort while the polymer clips allow for a shirt to be tucked in over the holster. A tension adjustment screw holds the firearm securely and the clips offer ride depth and cant adjustment.
Infidel Max with Light
This all-Kydex, Inside the Waistband Concealed Carry holster provides cant adjustment holes to allow the user to change from a reverse cant, speed cant and FBI forward cant. The smooth, low friction surface allows for a fast draw and easy one-handed re-holstering of the firearm. The all-Kydex body will not bend or stretch over time and is impervious to sweat and solvents.
All three of these holsters now offer sizes for the following firearms with Streamlight TLR-6® attached:
GLOCK® 42 + Streamlight TLR-6Ò
GLOCK® 43 + Streamlight TLR-6Ò
GLOCK® 26/27 + Streamlight TLR-6Ò
S&W® M&P Shield + Streamlight TLR-6Ò
"At Comp-Tac we strive to offer the widest variety of holster options for concealed carry. With the growing demand for firearms equipped with lights and lasers Comp-Tac is working hard to provide even more holsters with more options," stated Gordon Carrell, Comp-Tac's General Manager.
Comp-Tac's holsters are available for purchase through Comp-Tac's website, www.comp-tac.com.
About Comp-Tac Victory Gear, LLC
Comp-Tac Victory Gear, LLC combines experience in personal protection and the tactical applications combined with the love of pistol shooting competitions into every product they develop. Comp-Tac strives to deliver high value, quality solutions and improvements at the best price. With satisfaction a top priority, we ensure speed, quality and superior customer service to support your desire to take responsibility for personal safety, security and recreational firearm use.