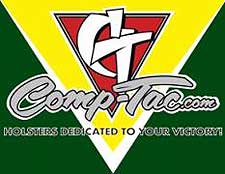 Houston, TX  -(AmmoLand.com)- Comp-Tac's Randi Rogers won High Lady at the 3rd Annual IDPA Silver Dollar Championship held March 19th in Wichita Falls, Texas.
With her final time of 266.12 seconds, Rogers finished second in the Stock Service Pistol Division, 5th Overall in the match and won 3 out of the 12 stages.
"The IDPA Silver Dollar Championship was one of the most physical matches that I have shot. Every stage required the shooter to move between multiple positions and work around many different styles of cover. The staff and officials did an excellent job and throughout all the movement my holster and magazine pouches held flawlessly," said Rogers, Team Comp-Tac member and Sales and Marketing Manager for Comp-Tac.
Fellow Team Comp-Tac member Gordon Carrell also finished well amongst the competition.
With a final time of 252.83 Carrell finished 2nd overall in the competition.
"Congratulations to Match Director Robert Porter and his staff for a great match. The stages were fun and challenging with a good mix of medium to difficult shots as well as a few downright tough ones. Looking forward to next year's match," explained Gordon Carrell, a Team Comp-Tac member and the company's General Manager. "Matches like these are excellent tests of Comp-Tac equipment and we learned a lot about what is needed in great competition holsters as well as the importance of good magazine pouches."
Comp-Tac manufactures holsters for both the concealed carry users as well as competition shooting. For the last four years, Comp-Tac has been the most used holster brand by competitors who are surveyed at the IDPA Nationals/ World Championships.
Next up for Team Comp-Tac, Rogers and Carrell will compete in the USPSA Area 6 Championship taking place April 21st, in Atlanta, Georgia.
For more information on Team Comp-Tac, and the full line of Comp-Tac Victory Gear holsters and accessories, visit www.Comp-Tac.com, like Comp-Tac on Facebook at www.facebook.com/CompTac, or follow @CompTac on Twitter.
About Comp-Tac Victory Gear, LLC:
Comp-Tac Victory Gear, LLC combines experience in personal protection and the tactical applications combined with the love of pistol shooting competitions into every product they develop. Comp-Tac strives to deliver high value, quality solutions and improvements at the best price.  With satisfaction a top priority, we ensure speed, quality and superior customer service to support your desire to take responsibility for personal safety, security and recreational firearm use.
For more information, visit: www.comp-tac.com.