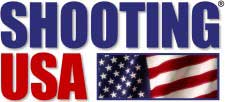 Nashville, TN -(AmmoLand.com)- Shooting USA – Cowboy Action World Championship  
Shooting USA goes west for the World Championship at End of Trail. It's the cowboy shooting best competing for titles in New Mexico. Plus, the rifle that won the West. The Winchester 73 is one of History's Guns. And 20-something-year-old, Firefox, becomes the newest SASS member with help from a champion coach.
Shooting USA's Impossible Shots – Get the Lead Out
Byron Ferguson is challenged by the "Write Way to Shoot," with a pencil as his target. First clipping off just the eraser, then changing ends to just cut the tip of the sharpened lead. Pus, Master Gunfighter, Cisko, tries the classic El Prez drill for record time, but with his two six-guns instead of the traditional autoloader mag change. How fast can the El Prez be done with two draws instead of one?
AIR TIMES BY TIME ZONE
The Shooting USA Hour Wednesday:
Eastern Time: 5:30PM, 9:00PM, 12:30 AM Thursday
Central Time: 4:30 PM, 8:00 PM, 11:30 PM
Mountain Time: 3:30 PM, 7:00 PM, 10:30 PM
Pacific Time: 2:30 PM, 6:00 PM, 9:30 PM
Shooting USA is listed as a one-hour show in your cable menu.
Shooting USA's Impossible Shots:
Wednesday:
Eastern Time:  10:30 PM, 2:30 AM, 5:30 AM Thursday
Central Time:  9:30 PM, 1:30 AM, 4:30 AM Thursday
Mountain Time: 8:30 PM, 12:30 AM, 3:30 AM Thursday
Pacific Time: 7:30 PM, 11:30 PM, 2:30 AM Thursday
Stay Connected to Shooting USA
Be sure to "Like" Shooting USA on Facebook: https://www.facebook.com/JimScoutten.ShootingUSA
And, on Instagram!
Jim
Defending the 2nd by Example in the 23rd Year
[email protected]
About Shooting USA:
Jim Scoutten, America's Most Watched Firearms Reporter, has been on the beat for 14 years, reporting the stories of the Shooting Sports and the firearms Industry. The show produces a series of popular segments focusing on historical guns, the personalities in the sport and industry, insider reports from gun tests, and practical tips from shooting sports pros. The show appeals to shooting sports enthusiasts of all ages and skill levels by providing practical tips on safely handling, modifying and repairing their favorite guns.
For more information, please visit www.ShootingUSA.com.